The moment you step out onto the Sky Lounge at Tower 5, you know you're somewhere special.
The beauty of Nayarit is laid out before you in every direction, breathtaking wraparound views of the Bay of Banderas and Sierra Madre mountains providing the perfect backdrop to your vacation. Across the lounge stretches an expansive infinity pool, its peaceful waters lapping hypnotically against the horizon, disappearing into the sky. The Sky Lounge is a sight to behold, and one might find it hard to tear their eyes away, until the tantalizing sound of marbled steaks and fresh seafood sizzling on the fire caught their attention.
That sizzle is coming from Nuevo Vallarta's newest—and perhaps finest—culinary destination, Quinto Charcoal Cuisine. Quinto draws its name from the practice of Mexico's ancient navigators, who long ago divided their charts in five parts to better find their way. Following that inspiration, Quinto has navigated a path through the epicurean, crafting a philosophy and menu that celebrates the land and sea across all culinary traditions.
Here, Hamachi sashimi shares the table with grilled Caribbean lobster and zesty Mexican ceviche. Traditional tools and techniques are complemented with miracles of molecular gastronomy, resulting in improbable creations like a classic ribeye topped with airy potato foam. But far from seeming out of place, these diverse cibarious origins and techniques combine to create something new, bringing a singular pleasure to diners of every taste.
Quinto's eponymous charcoal oven is its chief feature, and a gift for any lover of the classics. This traditional cooking method imparts Quinto's premium cuts of succulent ribeye or New York Strip with a richer, more natural flavor profile than modern gas-driven ovens or grills. Steaks hit the plate with an expert crust and a deep pink, perfectly rare interior. In truth, "plate" is a bit of a misnomer—more often than not, Quinto's steaks are served directly on a slab of pink Himalayan rock salt, the meal's natural moisture drawing in the perfect amount of seasoning, balancing every bite.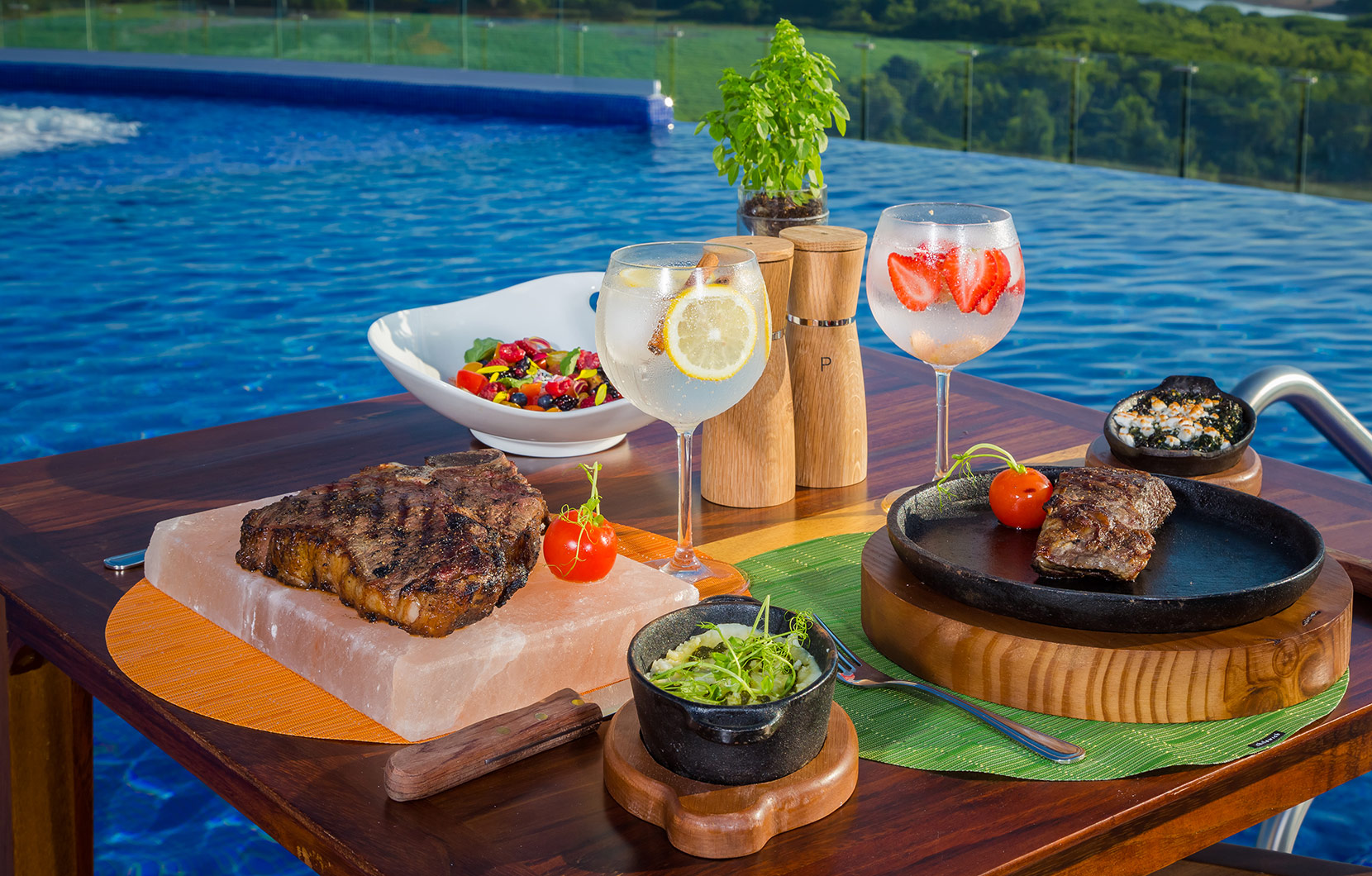 That kind of creativity is echoed across Quinto's seafood menu, and even at its mixology bar, where cocktail artists pour unique creations using top liquors from around the world, as well as premium tequilas and smoky mezcal from right around the corner.
So, the next time you're at Vidanta Nuevo Vallarta, be sure treat yourself to the taste of paradise you deserve—and of course, don't forget to enjoy the view.