From radio stations to office parties, department stores to downtown lights: everywhere you look, the holidays are upon us and the festivities have officially begun. And for those who celebrate Christmas, there's an implied reason for the season—one that's been celebrated throughout Mexico for over 400 years. We're talking about Las Posadas: the "prequel" of sorts to the classic nativity story leading up to baby Jesus's birth.

Las Posadas is Spanish for "the inns"; celebrated between December 16th and 24th—nine days to mirror the nine months of Mary's pregnancy—this extraordinary festival commemorates Joseph and Mary's passage from Nazareth to Bethlehem in search of suitable, hospitable shelter for Mary to give birth. The celebration revolves around a procession through the streets, traditionally led by children, who signify Jesus's momentous arrival and legacy. Following the kid brigade are adults who help the parade stop at various locations to reenact the holy family's plea for refuge. As in the nativity story, the procession is refused shelter until its final stop—but in this festive rendition, participants enjoy hot punch and snacks, read scripture, and sing traditional carols all along the way.

Masses are held daily, and at the end of the festival, the procession is welcomed at last. Children break piñatas to release candy and other treasures. These special treats may symbolize holy abundance, while the piñata itself, fashioned in a star shape, hearkens back to the star that once guided three wise men to the newborn. Today Las Posadas is a faith-deepening, community-strengthening ritual to bring the intimate life of families out into the streets, and make the joy at the heart of Christmas cause for year-round celebration.

Wherever you are, you can add a dose of that joy to your own holiday celebration, with your own steamy batch of traditional Ponche Navideño, or Chrismas punch: a time-honored tipple worth making a pilgrimage for.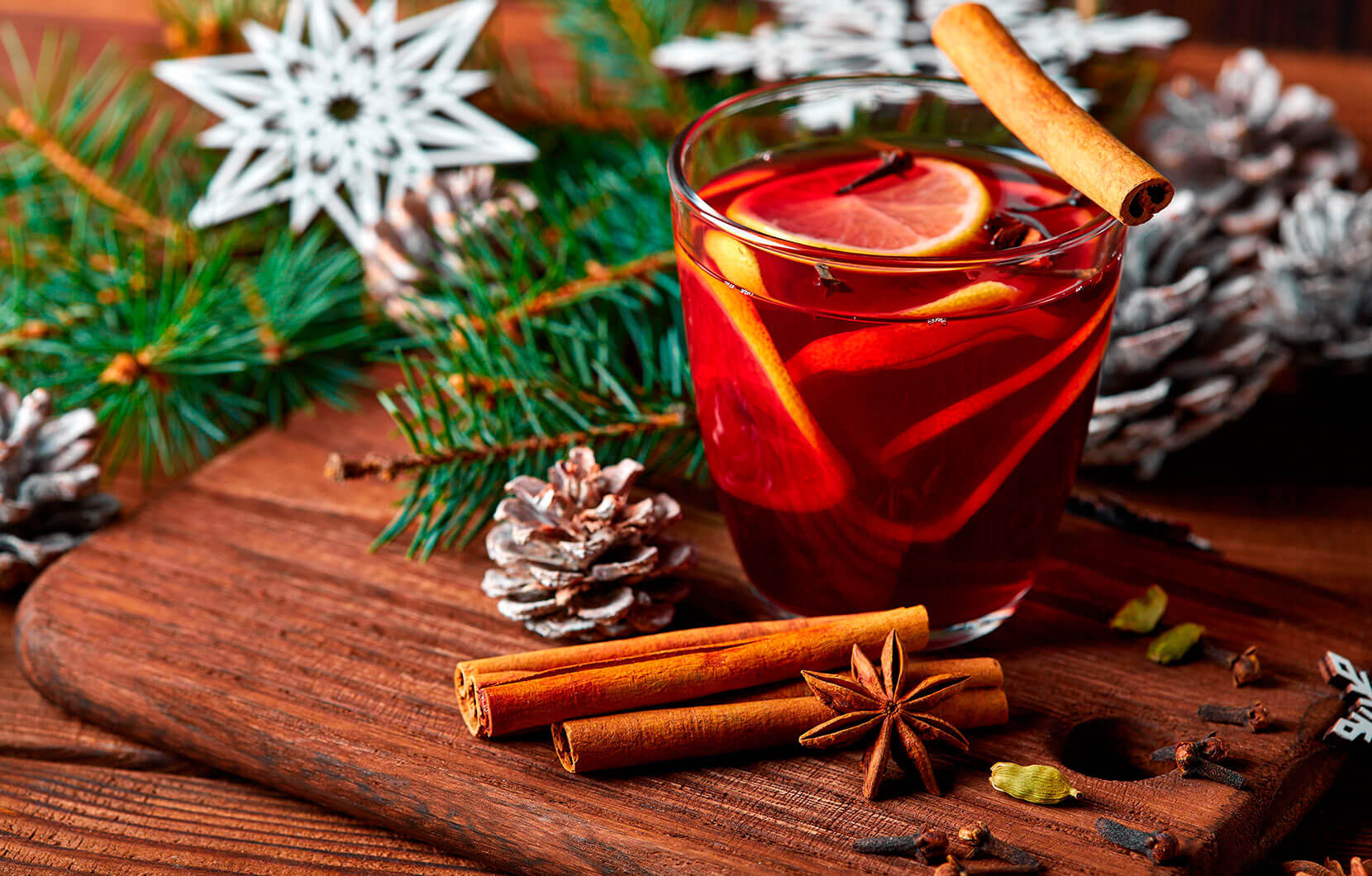 Ponche Navideño
INGREDIENTS
Servings: 16
1 gallon water
2 whole cinnamon sticks
8 whole cloves
5 tamarind pods, husks removed, and seeded
8 ounces whole tejocotes (crab apples)
4 guavas, peeled and diced
2 red apples, peeled, cored, and diced
2 pears, peeled, cored, and diced
2 (4-inch) sugar cane sticks, peeled and diced
1 cup pitted prunes
½ cup raisins
1 ½ medium oranges, sliced
1 cup packed dark brown sugar
Brandy, rum, or tequila (1-2 ounces per cup of punch)
DIRECTIONS
Lightly toast the cinnamon sticks in a dry pan, and reserve.
Heat the water, cinnamon sticks, cloves, tamarind pods, and tejocotes in a large pot. Bring mixture to a boil over high heat. Reduce heat and simmer gently until the tejocotes are soft.
Remove the tejocotes from the pot and cool. Once cool, peel the tejocotes, trim the ends, halve them, and remove any seeds. Return the apple halves to the pot.
Add the guavas, apples, pear, sugarcane, prunes, raisins, and oranges, and sugar. Simmer mixture for at least 30 minutes, stirring occasionally. Remove and discard the cinnamon sticks.
To serve, ladle the punch into mugs with the simmered fruit. Add liquor of choice to each cup and stir.
Recipe adapted from Latin Twist: Traditional & Modern Cocktails (Hippocrene, 2015).