Transitioning from medicine to fashion design might seem like a leap to some, but for Benito Santos, understanding the body is the bridge that joins his life's two great loves.
One of Mexico's most well-known and beloved designers, Santos extends his fine hand to high-end bridal couture with an extraordinary personal touch. He's dressed many international celebrities, including Miss Mexico Ximena Navarrete, who famously wore his design when she was crowned Miss Universe in 2010. The beaded scarlet gown was bold and fittingly regal, with a one-shoulder detail mimicking the sash Navarrete would ultimately be awarded. Santos' bridal style is much the same: ultrafeminine, thoughtful, and very glamorous: intended for the modern woman who knows she's a queen.
Santos will soon embark on an exclusive collaboration with Vidanta Weddings, and much more information about this amazing—and very glamorous—partnership will be coming soon. In the meantime, we sat down with this rising star and heard more about his history, artistic vision, and relationship to Mexico.
Take us back. When and where did your passion for design begin?
The desire to illustrate has always been present and is something that has been refined over time, but since I was a kid, since I can remember, I've liked drawing silhouettes, bows, everything that has to do with women. I remember when I was in elementary school, in all my books and study materials, each sheet was decorated with a shoe or a dress. I was always surrounded by people who embroidered: my grandmother sewed and did hand embroidery on a frame, and often did embroidery for the party dresses that they used in my hometown, and I had a lot of contact with that.
How did you make the transition from medicine to fashion?
I think that I'll be a doctor until the last day of my life, but my real passion is design. When I made the decision to leave medicine, it was because I am passionate about mental health, and I believe there comes a time when maturity allows you to make certain decisions; to say: "That's what I want to do."
Maybe they are very different careers, but this is what I often tell directors at fashion schools: To me, having studied anatomy has helped me to make more precise cuts, and to know a little more about the silhouette of who I'm dressing. So anatomy, which is an important, fundamental part of medicine, should also be considered an important part of fashion.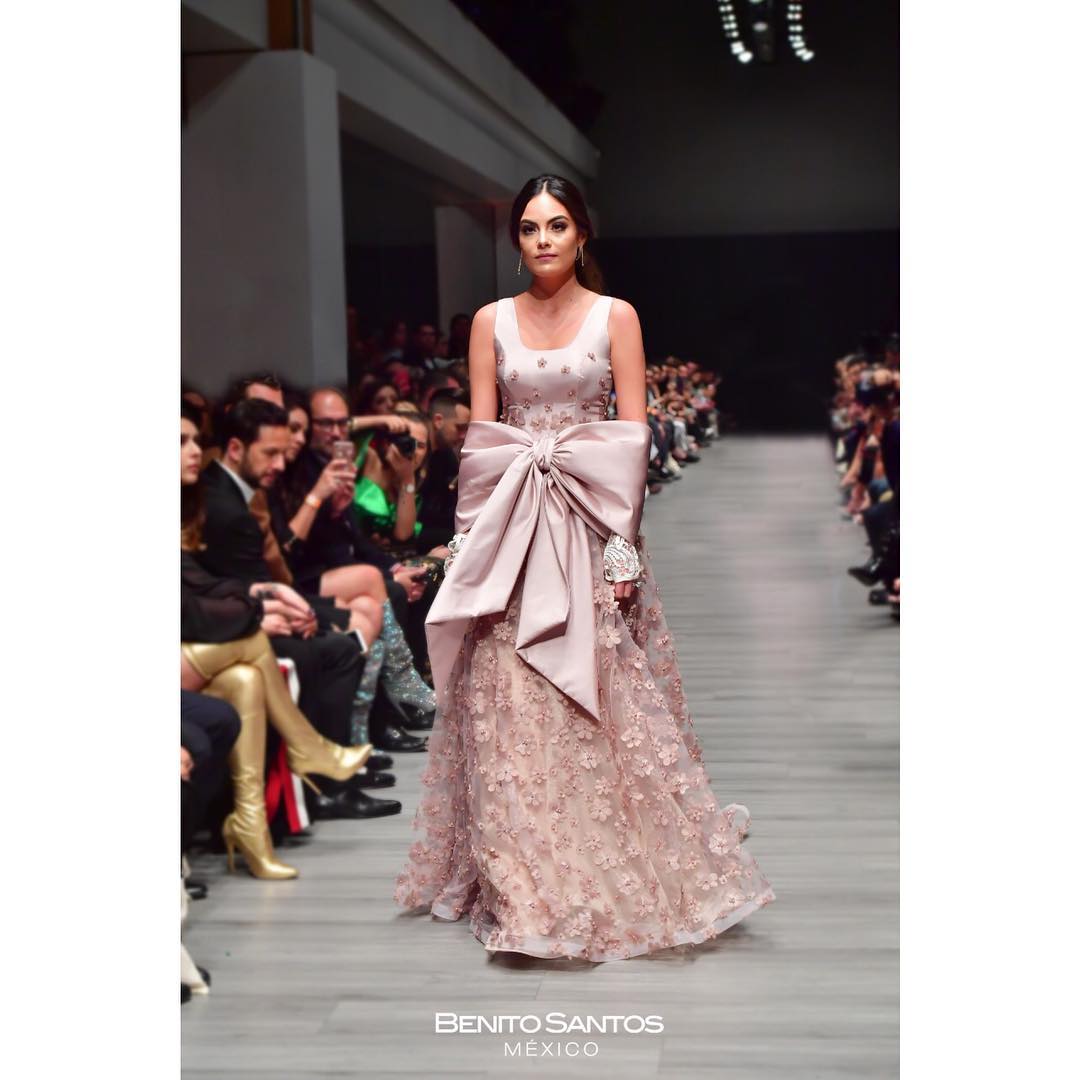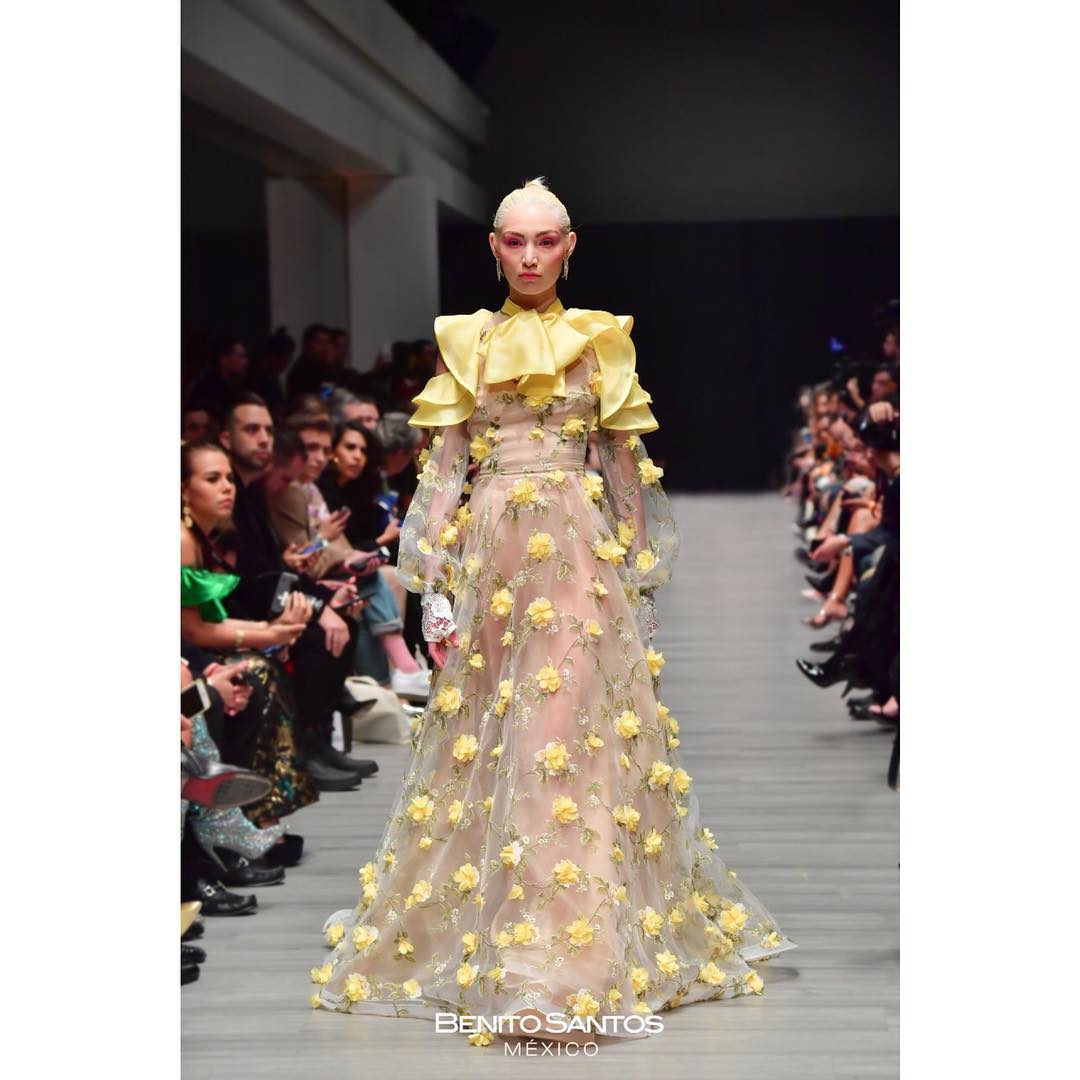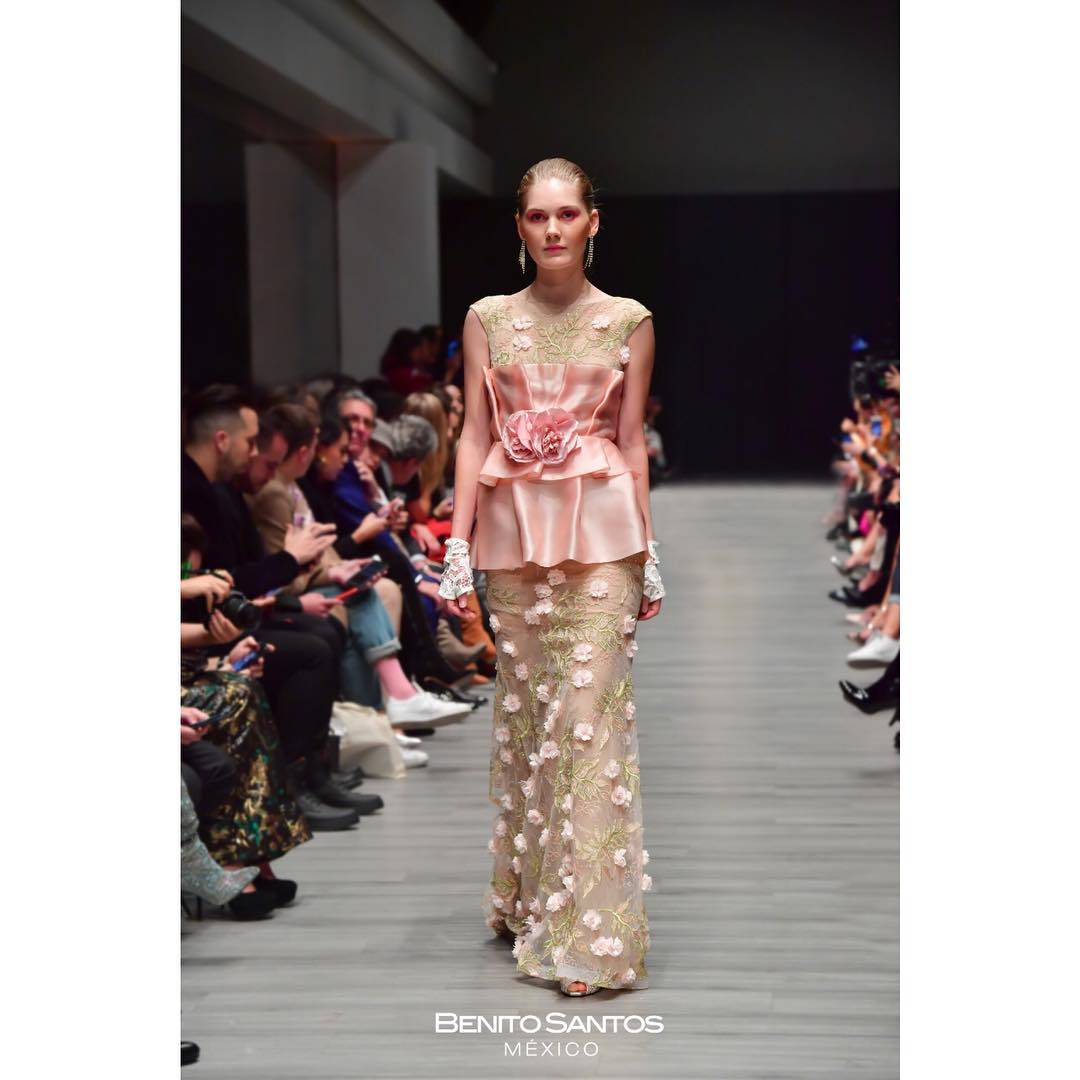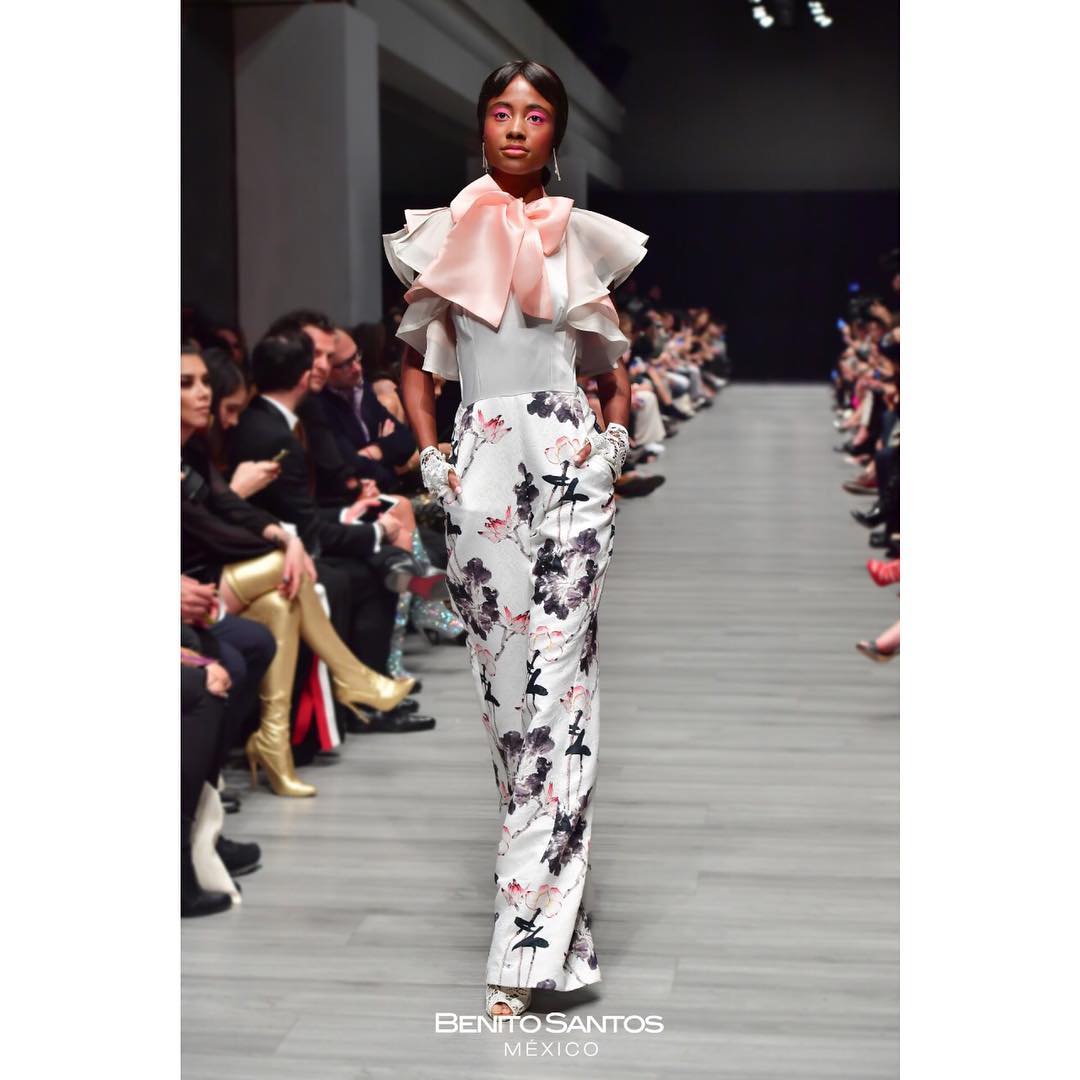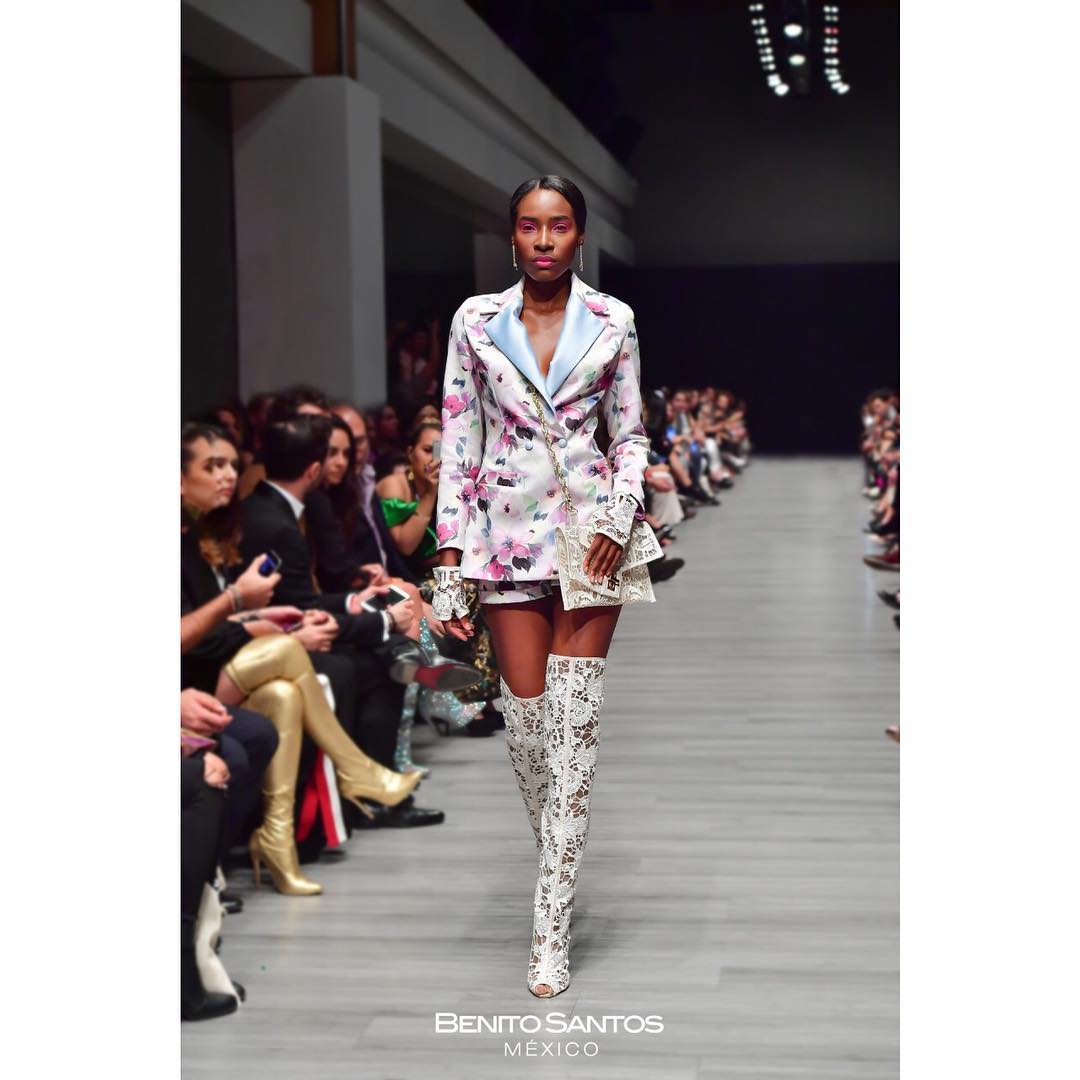 What distinguishes your particular style?
Well, for one, I think the meticulous work that I do with my people to embroider things by hand. To do so much work by hand makes our wedding dresses unique garments; each bears a very personalized influence that I want to dedicate to each one of them. I think that has a lot to do with my essence as a Mexican and all the traditions I bring to my pieces. And yes, I really like ruffles and I like to use embroidery, and I like to highlight all that. I think I'm very Mexican in my wedding gowns. Our traditions and the type of weddings we celebrate in our country allow us to take all that culture and translate it into an iconic garment.
For me, the woman who wears a Benito Santos custom garment is a woman who is the protagonist. She is unique. I like to think of my pieces accompanying women for the most important events of their lives.
How do you customize your work to an individual bride?
Every dress tells a story—there are women who want to look like princesses, other women want to look very sexy, and others just want to be the protagonists of their own story. So I think it's very important I have a clear dialogue with them and that I interpret their ideas with my suggestions, so I can advise them in order to create a garment that is truly unique for their day, a piece that is very personalized. I think it has a lot to do with the level of communication that I achieve with each woman.
How do you stay inspired?
I investigate. I like to say, I sometimes travel, or I sometimes don't travel, but this place, Mexico, is a country that inspires me so much. I love the diverse beauty of women, because beauty is a very diverse thing, but the Mexican woman is a source of inexhaustible inspiration.
What can we expect from your Vidanta Weddings collaboration?
These two gowns [specially designed for Vidanta Weddings] have been designed based on the resort destination, inspired by a sophisticated woman who wants to look elegant but at the same time, wants to feel fresh. A woman who can have movement, who can be fluent, but can also maintain everyone's attention. Those are the women that I see getting married here. I really like the Vidanta brand, I really like its values. I think my brand is always linked to that, and that's why I designed those garments for you.
Keep an eye on our social media for details and updates on the match of Vidanta Weddings and Benito Santos!
This interview has been edited and condensed.