We can almost hear the sound of fireworks and the pop of champagne bottles now. From 5-star chef-menus paired with the best tequila to sensorial entertainment delivered by Cirque du Soleil, to luxury beach galas, we've got something for everyone this year. So take a look at your calendar and start making New Year's Eve plans, because this time, we're celebrating like never before. Here's a rundown on just a few of our biggest parties this year.
Los Cabos
Los Cabos isn't holding anything back for 2019. OMNIA Dayclub, Herringbone and Casa Calavera are offering exciting musical performances and specially created holiday menus for guests and local visitors. Even more fantastic? All three venues will welcome the New Year with a dazzling firework show on the beach, overlooking the Sea of Cortez.
On December 31, OMNIA Dayclub will welcome Grammy-winner and famous DJ, Jermaine Dupri, who will count down to midnight with an electrifying nighttime performance. You'll be bale to luxuriate in a plush setting comprised of daybeds, cabanas, and two-story villas with beachside views as you dance the night away to Dupri's dynamic rhythmic mixes. You'll also be able to indulge in an open bar from 9 PM to midnight and an all-you-can-eat taco station at Casa Calavera, the authentic Mexican restaurant neighboring the day club.
Herringbone Los Cabos, the first international outpost of the "Fish Meats Field" brand, will also welcome guests on December 31 for a special New Year's Eve dinner. Executive Chef Alex Branch has thoughtfully designed a menu to showcase the best of Baja dining with dishes like rib eye steak served with perfectly charred potatoes, braised artichoke, and sea scallops served with squash blossom, saffron velouté, and Osetra caviar. A live musical performance and fun party favors will follow to liven up the festivities, as well as optional upgrades for wine pairings and access to the New Year's Eve party at OMNIA Dayclub!
Then, on January 1st, Casa Calavera will offer its special Hangover Brunch, which takes place between 10 AM to 3 PM. Their a la carte menu will feature standout comfort foods, such as the Enfrijoladas, prepared with house-made masa dressed with a black bean sauce, and the Egg Burrito, filled with savory cheese and crispy bacon.
General admission tickets, table packages and the Ultimate Weekend Package at OMNIA Dayclub are available now and can be purchased at www.NewYearsEveLosCabos.com via email at reservations@omnialoscabos.com or via phone at 52-624-104-9743 (Mexico), 1-800-887-0376 (United States) or 1-702-588-5612 (Global).
Riviera Maya
Cirque du Soleil knows how to put on a stunning show, so trust us when we say: New Years Eve with them is something to be experienced. The whimsy, the mystery, the complete world they build is a full sensory experience created to indulge everyone's craving for magic. And what better way to start the New Year than with magic?
The special JOYÀ performance includes a fanciful VIP dinner with unlimited champagne, tapas, and premium seating to enjoy the spectacle. And if you're still buzzing with all that thrilling JOYÀ energy, Nektar is throwing an after-party with live music, props, late night taco bar, photo booth and champagne. Nektar's exotic Yucatecan inspired food highlights the best of local cuisine (think cochinita pibil tacos and salsa tasters) and boasts a cocktail list filled with vivacious takes on classic drinks. So go ahead, cue the music and let the show begin.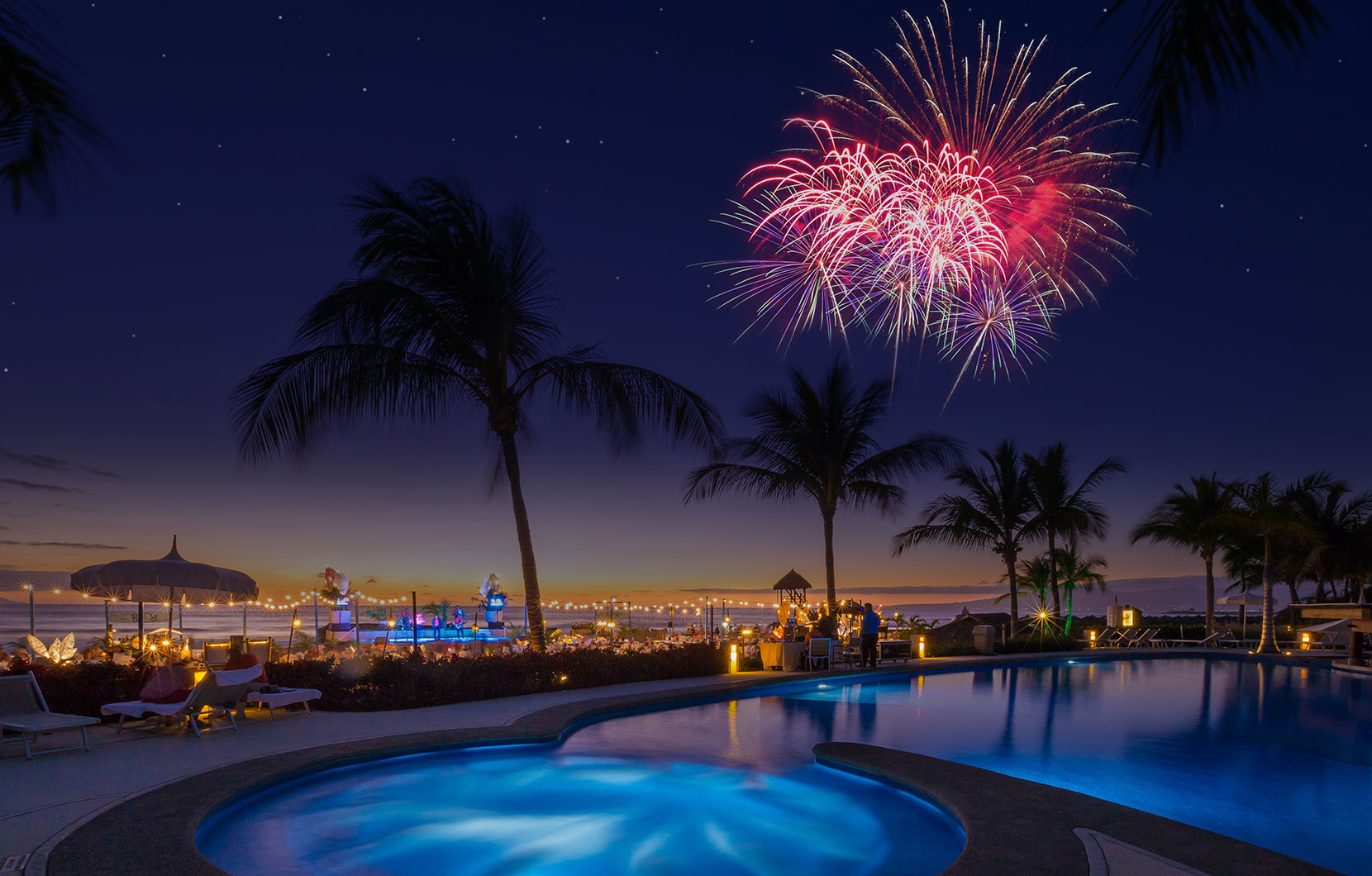 Nuevo Vallarta
A theme like never-before! Introducing the most glamorous themed New Years Eve party in Nuevo Vallarta: SAHARA 2019. The beachside gala will be magically lit and sumptuously decorated with lanterns, giant vases, intricate centerpieces and other Moroccan elements. All of this to enhance your 4-course chefs menu complete with champagne, belly dancer entertainment, 5 stages with live music, fireworks, and much more. This is a family friendly event you'll remember forever.
Ready to dress to impress and dine and dance with us? Call 1-800-292-9446 to reserve your spot today.