At the center of Vidanta Nuevo Vallarta is La Plaza, a shopping mecca which boasts a designer clothing boutique, a global food market, and a bazaar chock full of authentic Mexican art, street food, and games to try. Even better, it's only a short walk by way of the palafitos, or wooden walkways that crisscross Nuevo Vallarta and are surrounded by lush flora and fauna. With its stunning views from every floor and sprawling lake fountain, this is easily a place you could while away hours doing everything from tasting chocolate bonbons to taking in fireworks while you savor every bite at our French restaurant on top of the world. To make sure you don't miss a single one of this amazing resort feature's offerings on your next trip to Nuevo Vallarta, we've laid out everything that makes it so special by each of its three floors.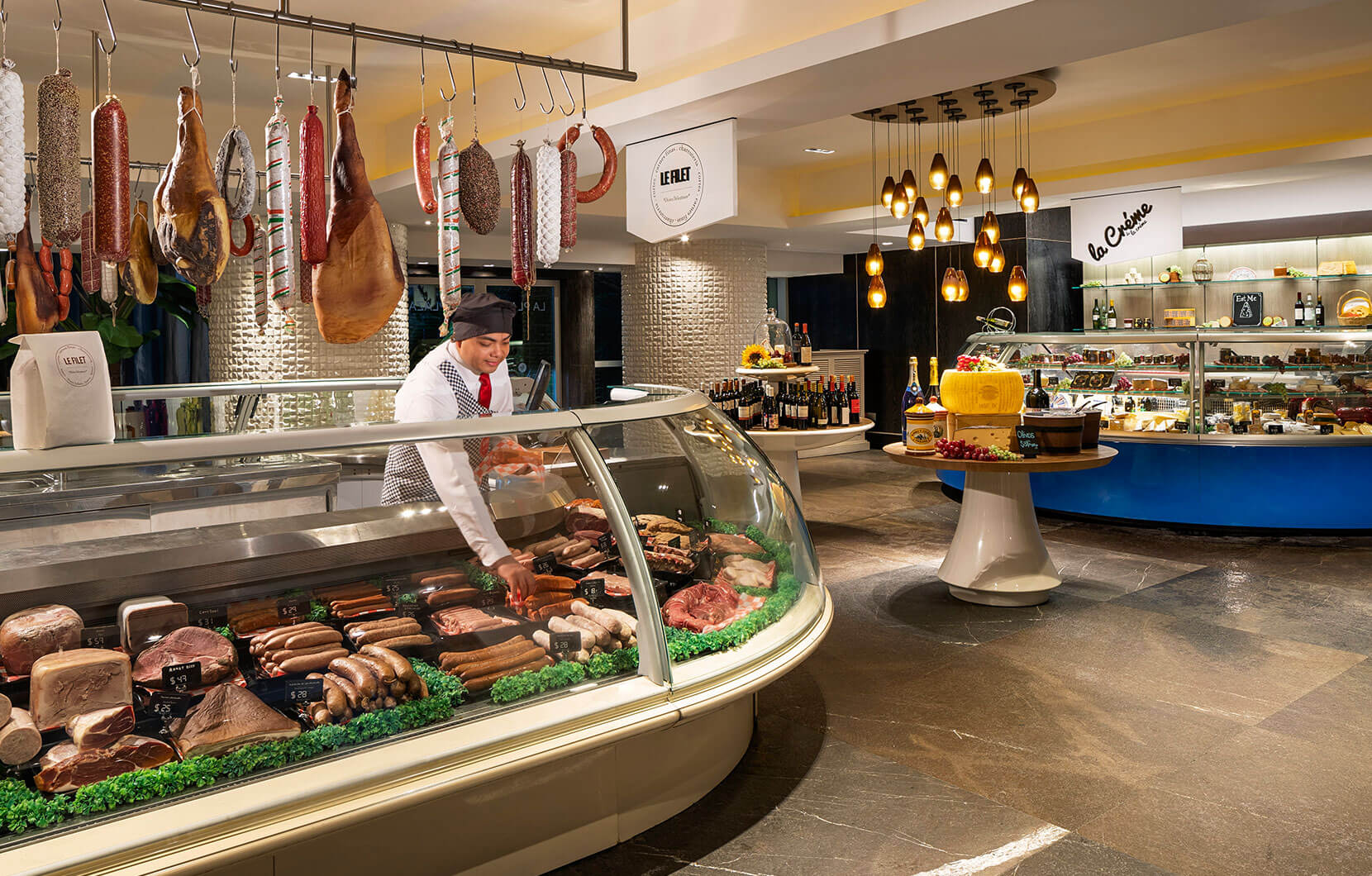 1st Floor Mercado Gourmet
Having a craving for something sweet? Or maybe salty? Or perhaps you're looking to get some flowers for date night? Get ready to explore the first floor of La Plaza, where you can find anything grocery or specialty related. We recommend walking around first to get the scope of all the shops and then circling back and visiting whatever caught your eye. Satisfy a craving for frozen yogurt at Frozen Frenzy, catch up with your someone special over a crêpe and coffee at Sweet Paris, order some deli-snacks and cheese for your afternoon beach picnic at Le Filet charcuterie and Crème de la Crème, grab some truffles at Costa de Cacao, and don't forget a bottle of wine at Vid a Vid! If you happen to be as crazy about French desserts as we are, go ahead and try a taste of some of our delicious works of art at Doux Bijoux or enjoy divine baked goods at La Croquant. Looking for things like SPF, bug spray, or last-minute medicinal items? La Botica drugstore has you covered, and you can also get bottles of water and other grocery items at La Alacena. Finally, don't forget to pass by Fleur en Fleur, our onsite florist where you can get a personalized bouquet for a romantic gesture or just to please yourself.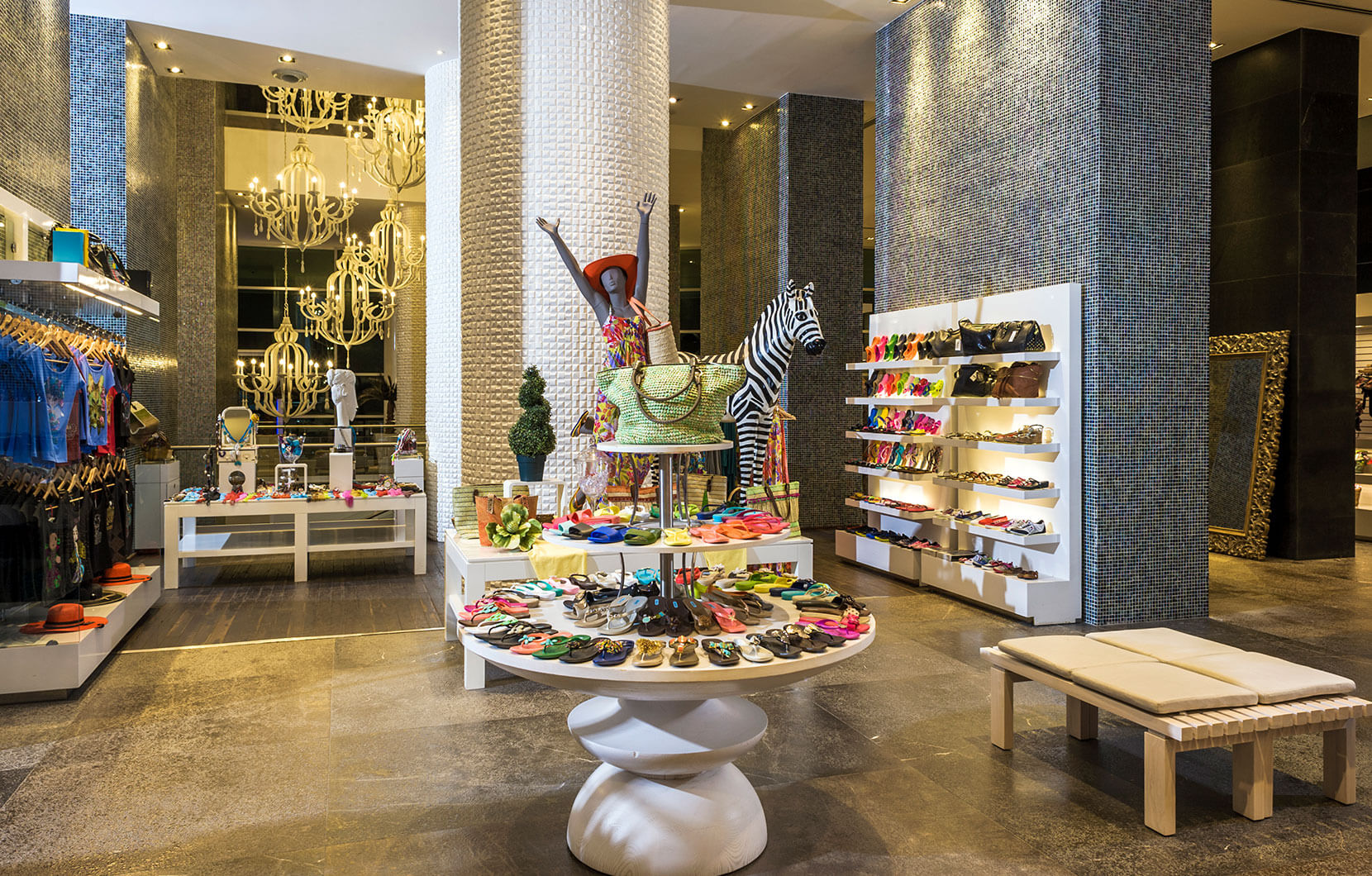 2nd Floor La Boutique
If retail therapy is what you need, look no further. La Boutique has everything from resort wear to swimsuits, sandals, sunhats, sunglasses, and even fine jewelry. So, if you get to the beach and realize your cover-up just isn't doing it for you anymore, or you need some turquoise bling for your fancy night out with the girls, come explore our options! We stock a wide variety of items for men, women, and children, so whatever you're looking for on vacation is sure to be found on the second floor.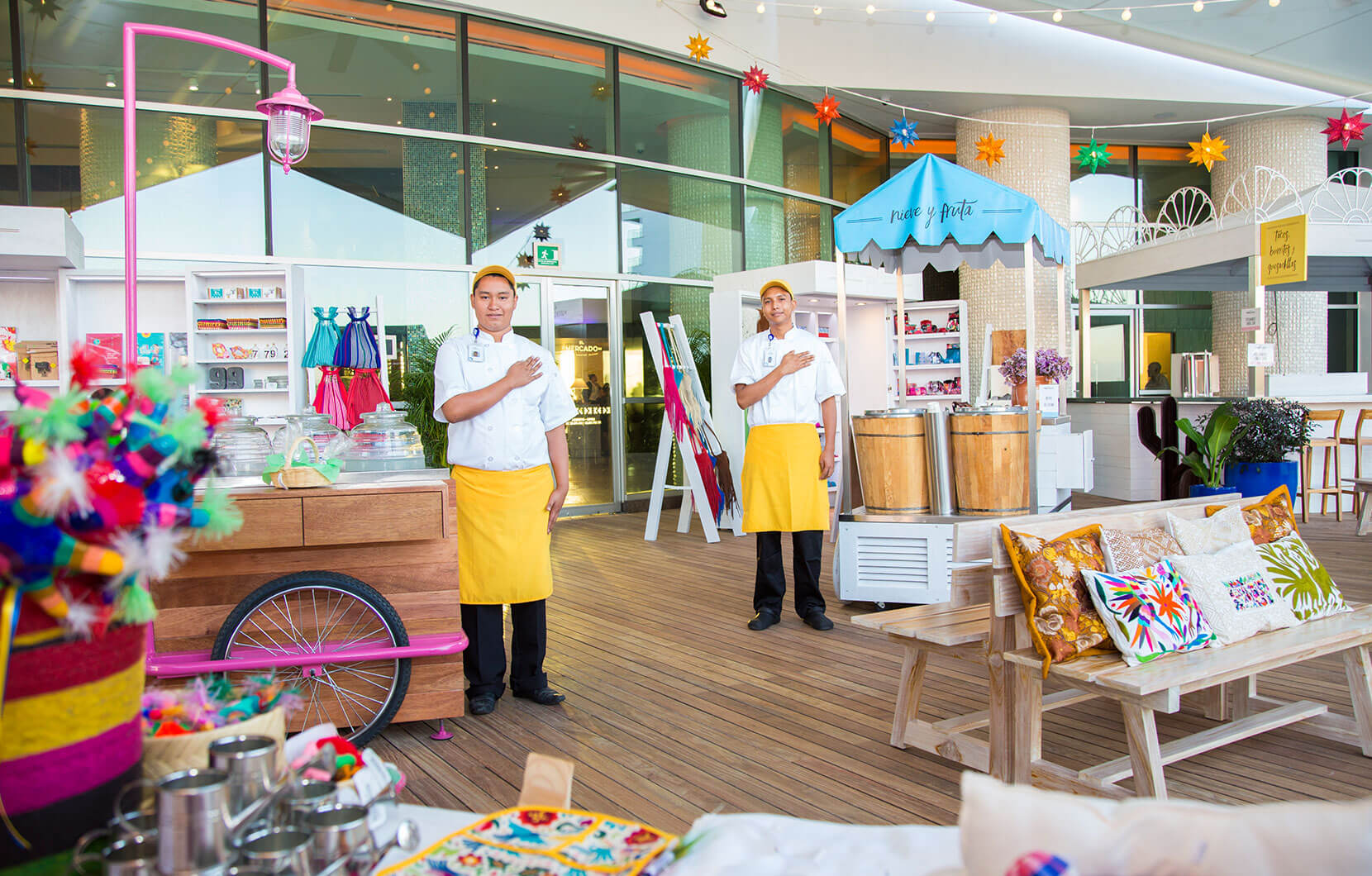 3rd Floor Mercado México
On the third floor of La Plaza, you'll find a fun Mexican bazaar filled with authentic art, goods, and foods, as well as beloved Mexican games. Stop by the art gallery and see what we have on display—it changes seasonally and we feature local and national Mexican artists. You might even find something you want to take home! Next, try your hand at loteria, marbles, and countless other Mexican carnival games in the giant open-air veranda next to our beloved taqueria: Tacos Break. If you're not craving our famous al pastor tacos with pineapple, then go for a paleta (popsicle), horchata, or aguas frescas. When you're ready for a decadent dinner, make a reservation in the Vidanta Resorts App for our French restaurant! This beautiful eatery is the perfect place to explore the flavors of French cuisine, which come in the form of modern, mouthwatering dishes. From bright salads and rich, comforting classics to innovative, flavor-forward entrées and decadent desserts.
Make the most of your next vacation by visiting La Plaza at Vidanta Nuevo Vallarta and perusing each of its floors.