Summer is here and Jungala Aqua Experience is now open! We can't wait for you to explore this brand-new offering at Vidanta Riviera Maya. With a serene and intimate setting, where guests luxuriate in Jungala's haven-like grounds, and which offers nature and luxury above all else, Jungala is a wildly exclusive way to enjoy your stay in paradise. It features a dedicated concierge service, gorgeous blooming gardens, private cabanas, endless aquatic playscapes, and some of the best waterpark rides in the world—we haven't missed a thing! And what does Jungala value above all else? Privacy and ease. With the beautiful flora and fauna surrounding you as you stroll through the park, you'll soon discover that it's certainly earned its name. Follow along as we run down six of the many, many reasons Jungala offers a standout vacation experience.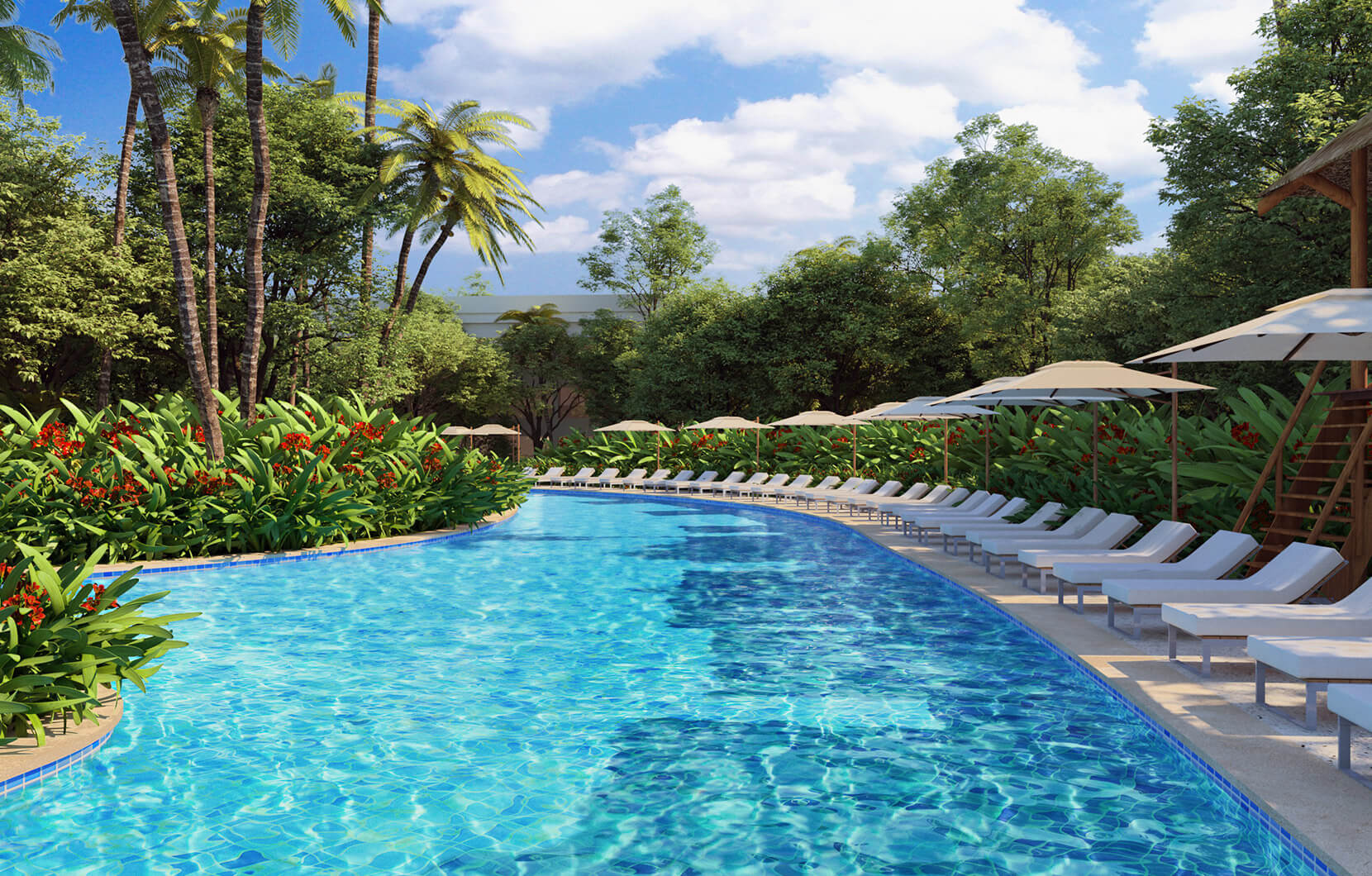 1. A One-of-a-Kind Oasis
Jungala offers a sophisticated and unique approach to the waterpark experience. The entire park is designed to showcase the natural beauty of the region, making it feel more like a day at a hidden jungle paradise than a waterpark. As lush greenery covers the sky above, and linen curtains blow in the warm breeze, our guests can experience the secluded and exclusive paradise of their dreams.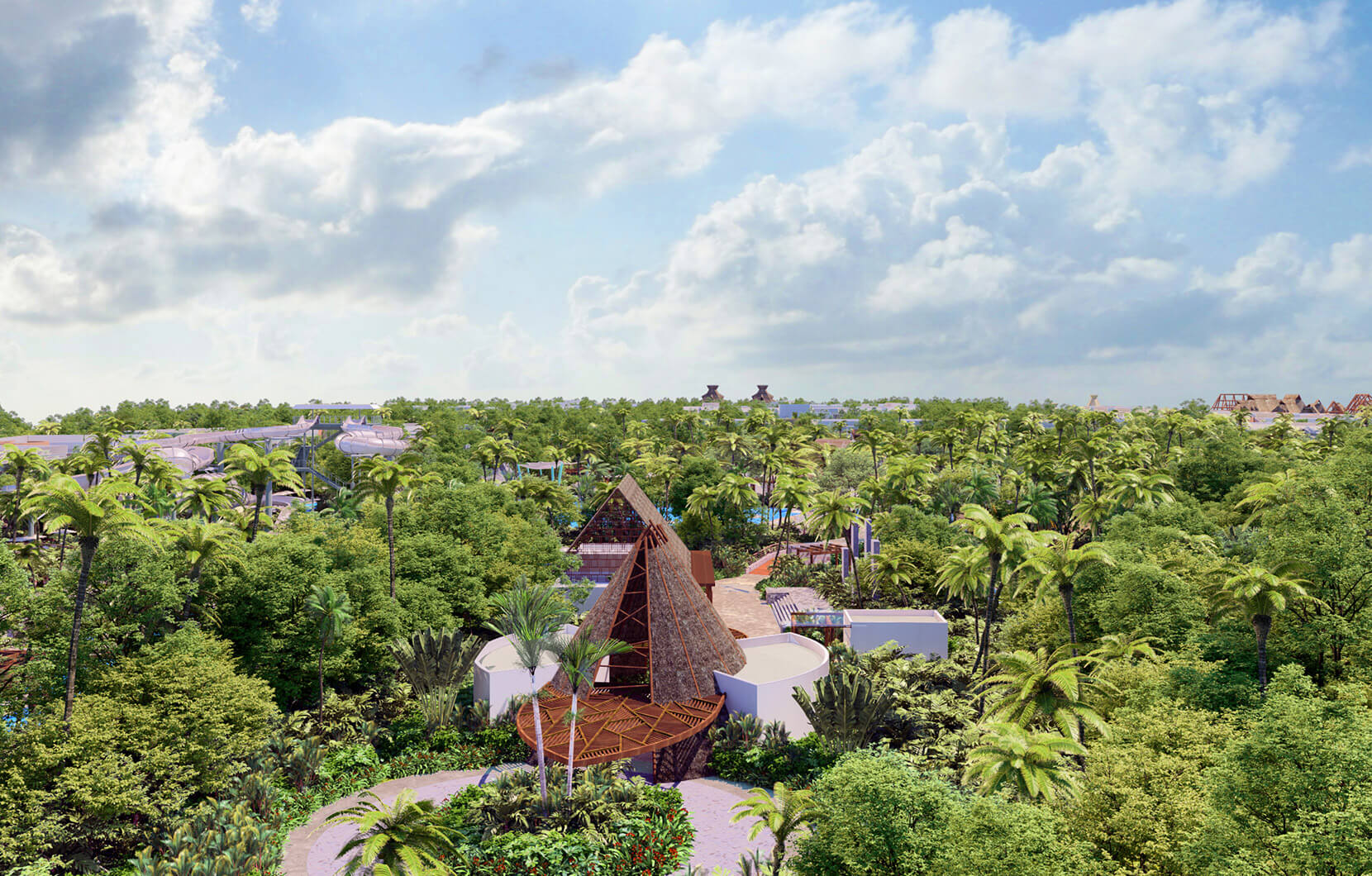 2. VIP Private Cabanas
Laying out at Jungala is a full-on luxury experience when you reserve one of our 19 private cabanas. You can choose which cabana you want based on location: River Cabanas are by the Lazy Rio, Wave Cabanas are by the Brave Wave Pool, and the Jungle Cabanas are located in the heart of the park. Each cabana also comes with the following amazing luxury amenities:
• Access to exclusive VIP area
• Access to luxury spa pool
• Welcome fruit plate
• Cooling Evian facial spray
• Refreshing face towels
• Luxurious towels
• Fruit-flavored spa water
• Bottle of sparkling, white, or red wine
• Assorted chef-prepared canapés
• Exclusive showers and bathrooms
• Sunglasses cleaning attendant
• Credenza with privacy box
• Paging system for personalized assistance
• 10% discount on any spa treatment
3. Latin America's Longest Lazy River
It's not enough to say that this lazy river is the longest—it's also one of the most magical experiences at the resort. As it winds its way throughout the park, it offers gorgeous coves and waterfalls for exploring; it even features a pool-like lagoon where guests can splash around before ordering from the swim-up bar. It's pretty much a daydream come to life.
4. Out-of-this-World Service
Our guests love the exceptional service they experience with every stay at Vidanta Riviera Maya. Now imagine getting that same attentive care and dedicated experience at a waterpark! Guests at Jungala can now enjoy personalized service throughout the park thanks to our concierge team, who is there to attend to every visitor's need or inclination. And always with a smile.
5. Spa Services at a Waterpark
Sometimes you just want to snag a moment of pure relaxation, even while you're visiting the waterpark with your family. Well, now you can. Because at Jungala, you can receive on-site spa services, which include massages in the decadent spa cabin, so that quality time with the whole family can still include some dedicated "me time."
6. Amazing Curated Attractions
How would you like to spend the day splashing away on the Rain-fortress, an amazing aquatic play structure? Or zooming around on a gravity-defying Hoop Hoop Aqua Loop slide? Or maybe just kicking it at the beautiful and serene Brave Wave Pool, with randomized waves of up to 1.5 meters in height? Jungala has all of these rides and attractions, and so much more! Guests of all ages are encouraged to explore.
Hurry, because it's time to book your Vidanta Riviera Maya getaway while you still can… We know we will be! So come and discover the luxury of Jungala for yourself by booking a vacation with the Customer Care Center, at 1-800-292-9446, or visiting Jungala.com to learn more.