Get to know the richness and depth of Mexican culture better with an authentic celebration of the Día de Muertos.
Mexican laureate poet Octavio Paz once wrote, "Our cult of death is also our cult of life."* Those words capture the spirit with which Mexicans celebrate Día de Muertos, the Day of the Dead, accepting our natural end and taking comfort in remembering all who are no longer with us.
Día de Muertos is observed throughout Mexico on November 2nd, and its traditions combine the ancient Aztec customs of commemorating ancestors with All Souls' Day, a religious holiday that Spanish invaders brought to Mexico in the early 1500s. In 2003, Día de Muertos was named by UNESCO (United Nations Educational, Scientific and Cultural Organization) as an Intangible Cultural Heritage of Humanity.
Families in Mexico honor their beloved departed through a feast that has different components: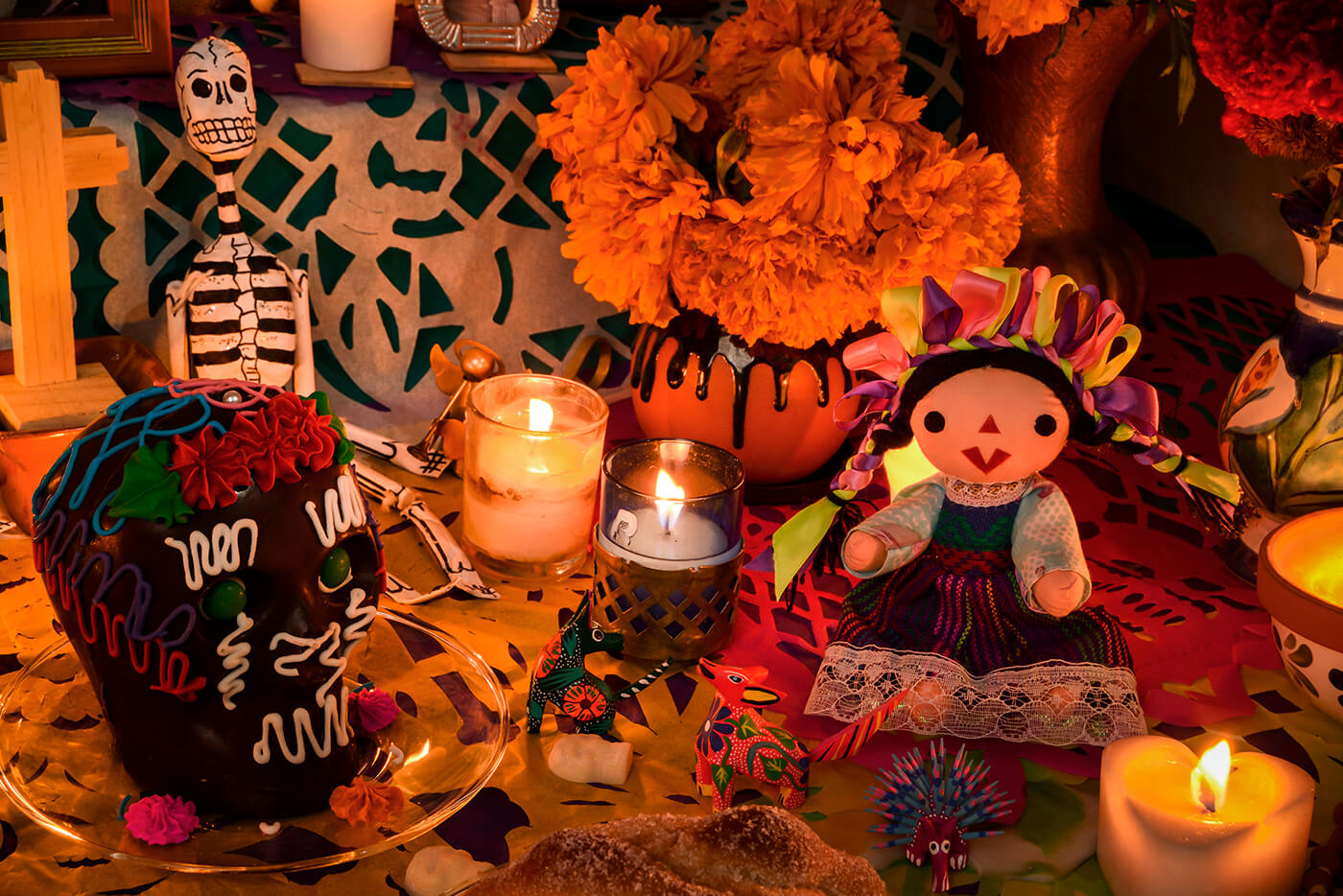 Altars or Ofrendas for the Dead
Families set up colorful altars at home and in public places with cempasúchil (marigold) flowers, burning copal incense, fresh pan de muerto bread, candles, sugar skulls, photographs, and mementos of the departed. At our resorts, you will see beautiful examples of these traditional shrines.
Visit to the Cemetery
On the eve of the celebration, gravesites are decorated with the same elements as the altars. At night, the cemetery transforms into a candlelit scene where laughter, music, and celebration merge with the reflection on mortality and the hope of meeting the departed again.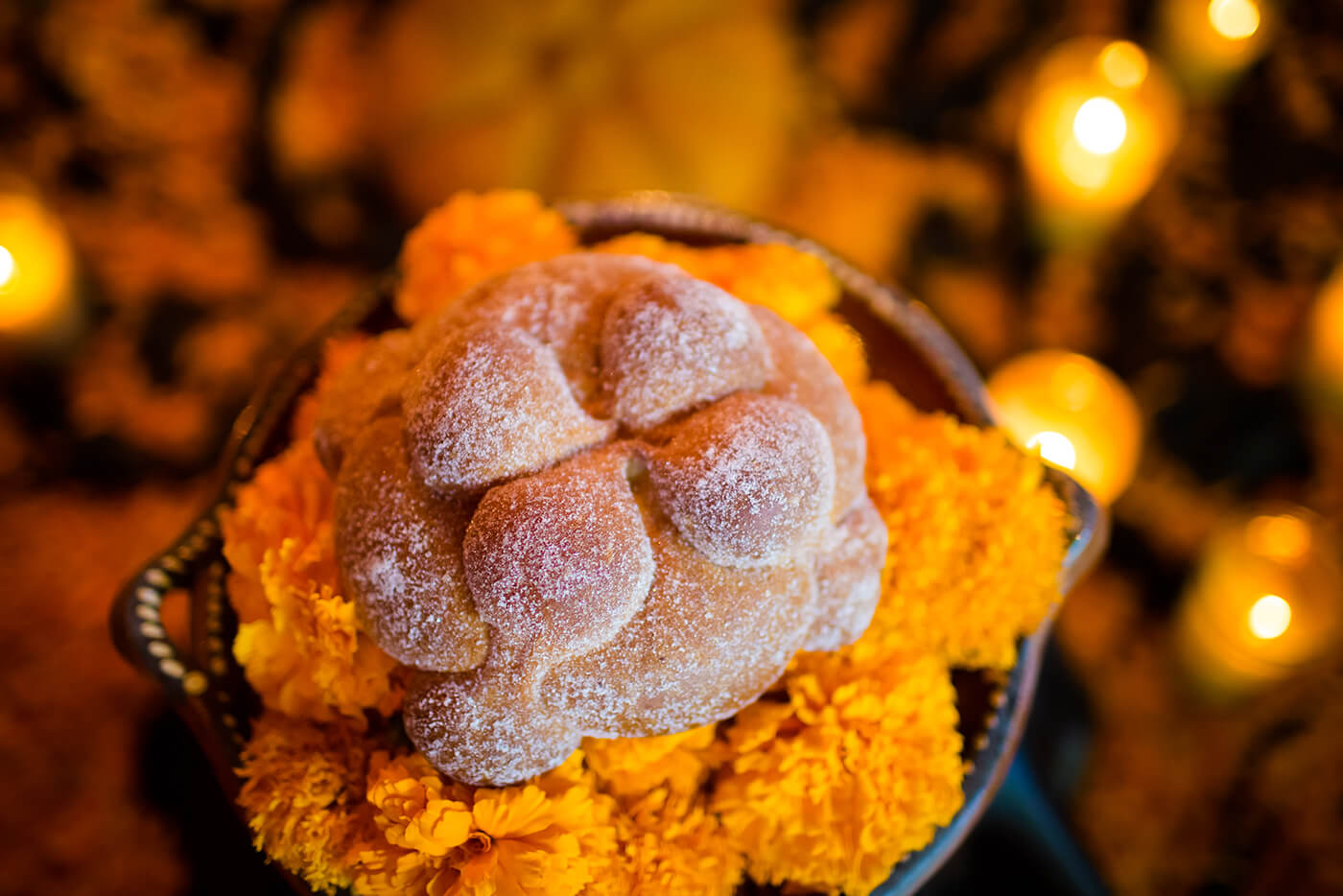 Pan de Muerto
This traditional sweet bread is only baked during the weeks leading to the feast, and you can savor it in any of our destinations. It follows a simple recipe with hints of anise seeds and other times flavored with orange-blossoms water or orange zest, but it's filled with symbolism:
• Round shape bread: the continuity of life and death
• A dough ball on the top: the skull or heart of the departed
• Two dough bone-like strips: the body of the dead, placed in a cross to signal the four elements, the four cardinal points, and the four main Aztec gods.
• Sesame seeds: the tears of the mourners
• Sugar: an element added by the Spaniards, originally painted red or pink, symbolizing sacrifice.

La Calavera Catrina – The Elegant Skull
The elegant skull that has become a festive symbol of this celebration was created in 1910 by Mexican illustrator José Guadalupe Posada. His signature cartoons satirically depict political and societal issues representing people, regardless of occupation, class, or status, with skulls for faces.
Posada's original sketch was a satire of leader Porfirio Díaz's high-society European obsessions and corruption. Later, Diego Rivera included the image in a mural in Mexico City that became a cultural treasure and solidified her presence in the national culture.
Adopting La Catrina as the modern icon of Día de Muertos ties together the times and their interpretation of death. Her elegant dress suggests celebration, and her broad, inevitable smile reminds us that there is comfort in accepting mortality. She tells us that regardless of who we are, we all have the same destiny.
Join the celebrations during your stay admiring fabulous altars, watching La Catrina exhibits and parades, delighting in freshly baked pan de muerto and traditional dishes, and honoring the deceased with folkloric dances and Mariachi music.
*Paz, Octavio, (2004). El laberinto de la soledad. México: Fondo de Cultura Económica, First Edition: 1950.