Get ready to be transported to a magical fantasy world with Cirque du Soleil JOYÀ's marvelous new menu!
Vidanta Riviera Maya is home to the spellbinding world of Cirque du Soleil JOYÀ—an otherworldly, multisensory performance and one-of-a-kind dining experience. This year, this glorious fantasy world is celebrating its 5th Anniversary by debuting a new menu, masterfully reimagined by the renowned Chef Alexis Bostelmann (who was a guest judge on Top Chef Mexico!)
This coveted dinner is a gastronomic adventure, starting from the very first course. After six months of arduous work, Chef Bostelmann and his team of 70 people created a truly unique dining experience. Each course serves locally sourced ingredients and is inspired by vibrant Mexican culture. This is no ordinary dining experience—it is an immersive, artistic creation that perfectly preludes the spectacular theatrical performance.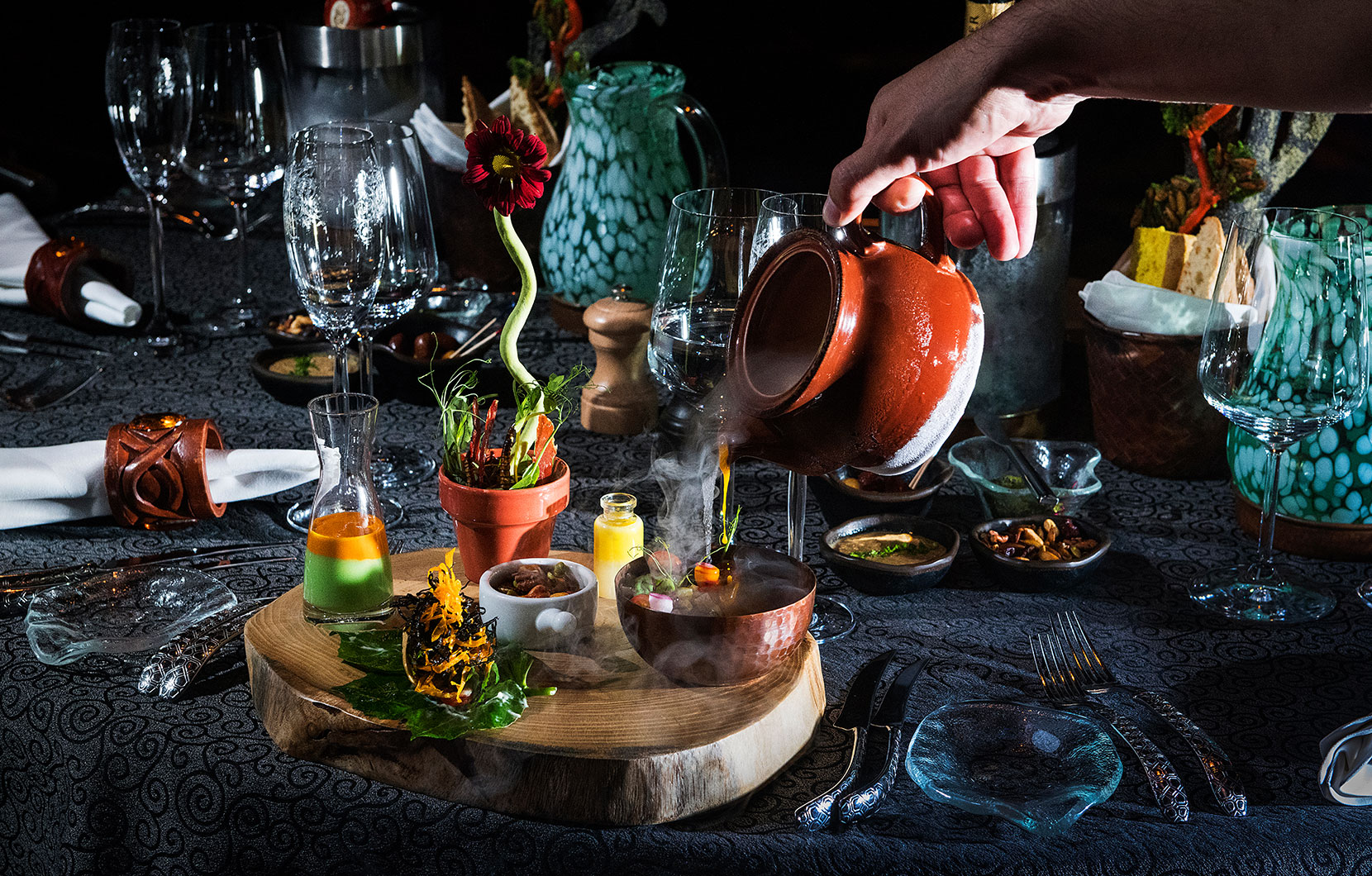 PART 1
Your gastronomic adventure starts with three dishes: a whimsical salad made of edible flowers; juicy Iberian ham; and a regional protein option, all served with a sumptuous lobster taco, a sweet potato, and fresh ceviche seasoned with coconut, mint, and passion fruit. These exquisite flavors will delight your palate.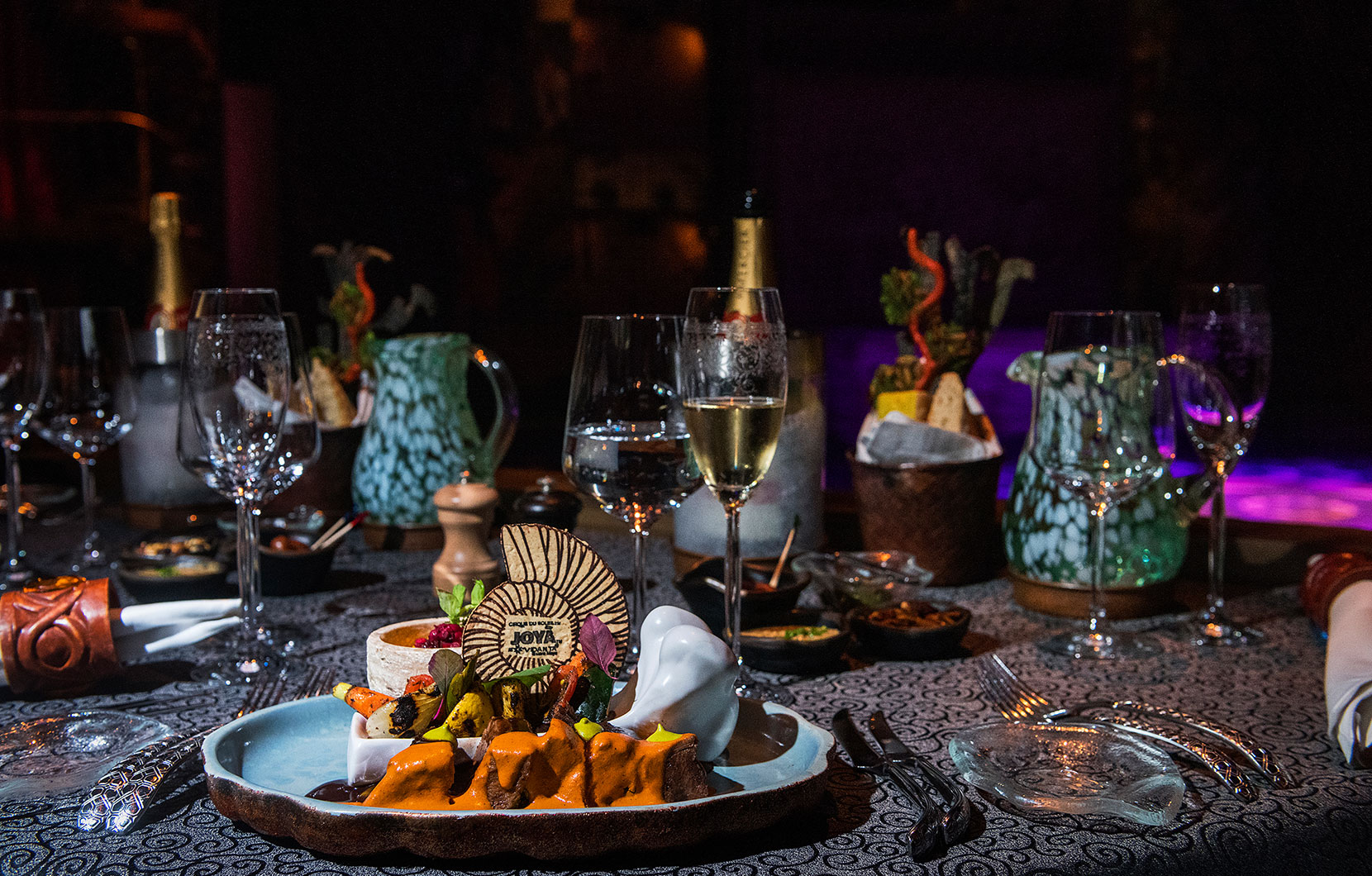 PART 2
The journey continues when a mysterious glass chest of jewels is served to you. Inside, you'll discover delicious treasures—a mini shrimp skewer and a seaweed salad topped with a delicate pearl made of coconut milk. Following that, you'll have the choice of a delectable salmon dish or a unique prehistoric-inspired dish, which presents steak in a meteor rock and braised ribs to symbolize dinosaur bones. These mouthwatering flavors in combination with a magical presentation are simply out of this world.
And if you're a vegetarian, don't worry! This is a feast for all guests. The vegetarian option is an odyssey of equally delicious flavors: a quinoa risotto with pickled cauliflower beets, served with an avocado mash presented in a storied travel trunk! For kids, a wonderful pasta option is available.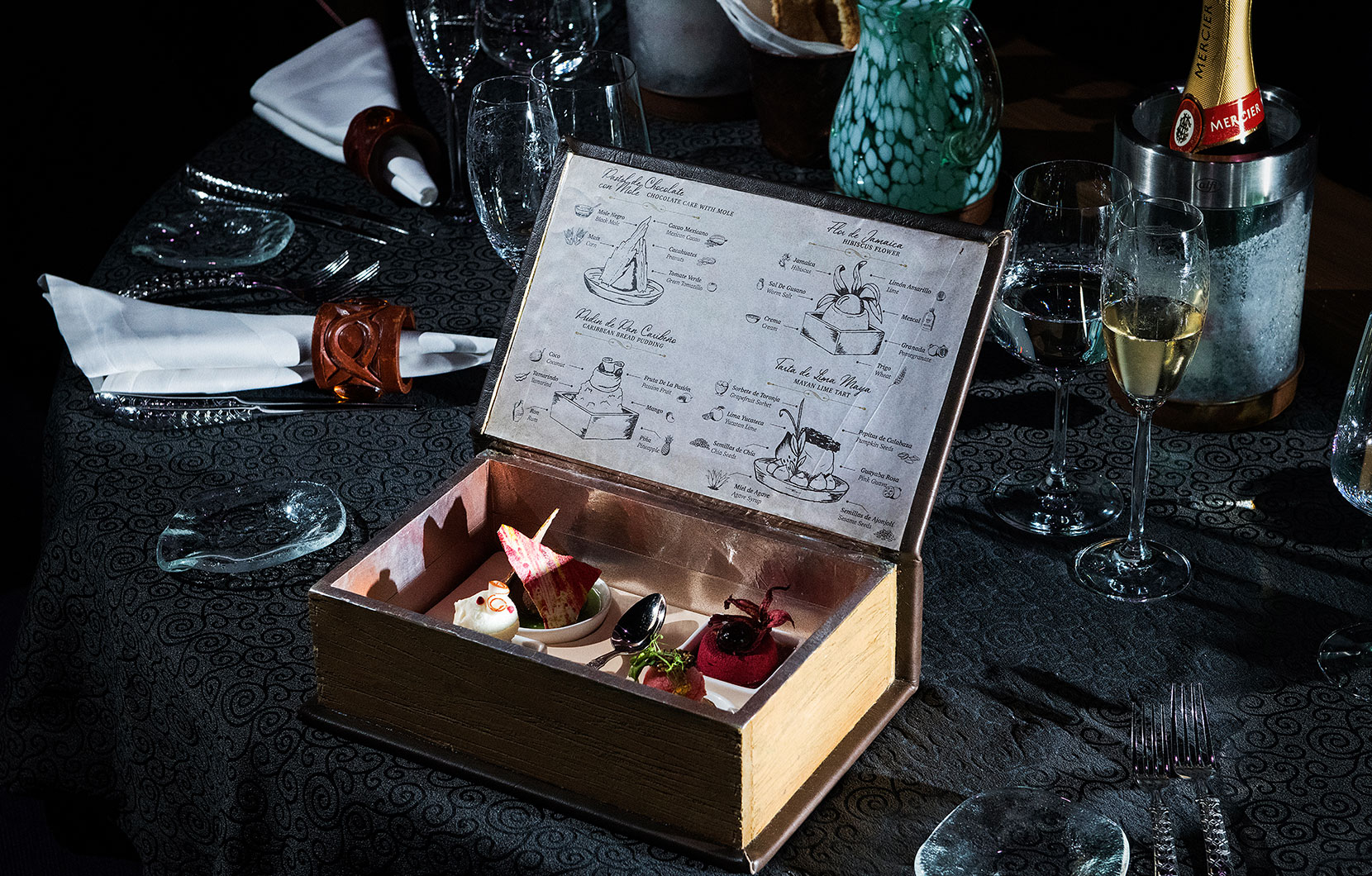 PART 3
The grand finale to this concerto of incredible delights is an emblematic dessert plated within the pages of "Le Tableau Periodique des Pâtisseries" (The Periodic Table of Pastries). This interactive experience is both bitter and sweet, both rich and airy, both juxtaposed and perfectly aligned.
Cirque du Soleil JOYÀ is truly a can't-miss experience of a lifetime. In addition to a spectacular show and an otherworldly dining adventure, you'll get to experience all of this in the award-winning custom Cirque du Soleil Theater.
To learn more and to be one of the first to taste these incredible new dishes, get your tickets now at www.CirqueDuSoleil.com/Joya. We can't wait to join you in the magical world of JOYÀ!