Vidanta Riviera Maya is now home to a wildly exclusive waterscape, full of luxury, thrills, and delightful surprises… Welcome to Jungala Aqua Experience!
Located in the depths of the lush Mayan jungle, Jungala Aqua Experience is a whole new aquatic world that's waiting for you to discover and explore. Featuring so much incredible fun and luxurious relaxation, Jungala is a one-of-a-kind offering that only Vidanta can bring you. There's something for everyone here, from world-class water attractions and amazing dining to VIP jungle cabanas and stunning natural beauty. The whole family can find their perfect bliss.
Since Jungala is a relatively new addition to Vidanta Riviera Maya's extensive offerings, we wanted to give our guests a chance to get to know it better. So read on to learn some surprising facts about this amazing park that'll make you want to pack your swimsuit and head there today!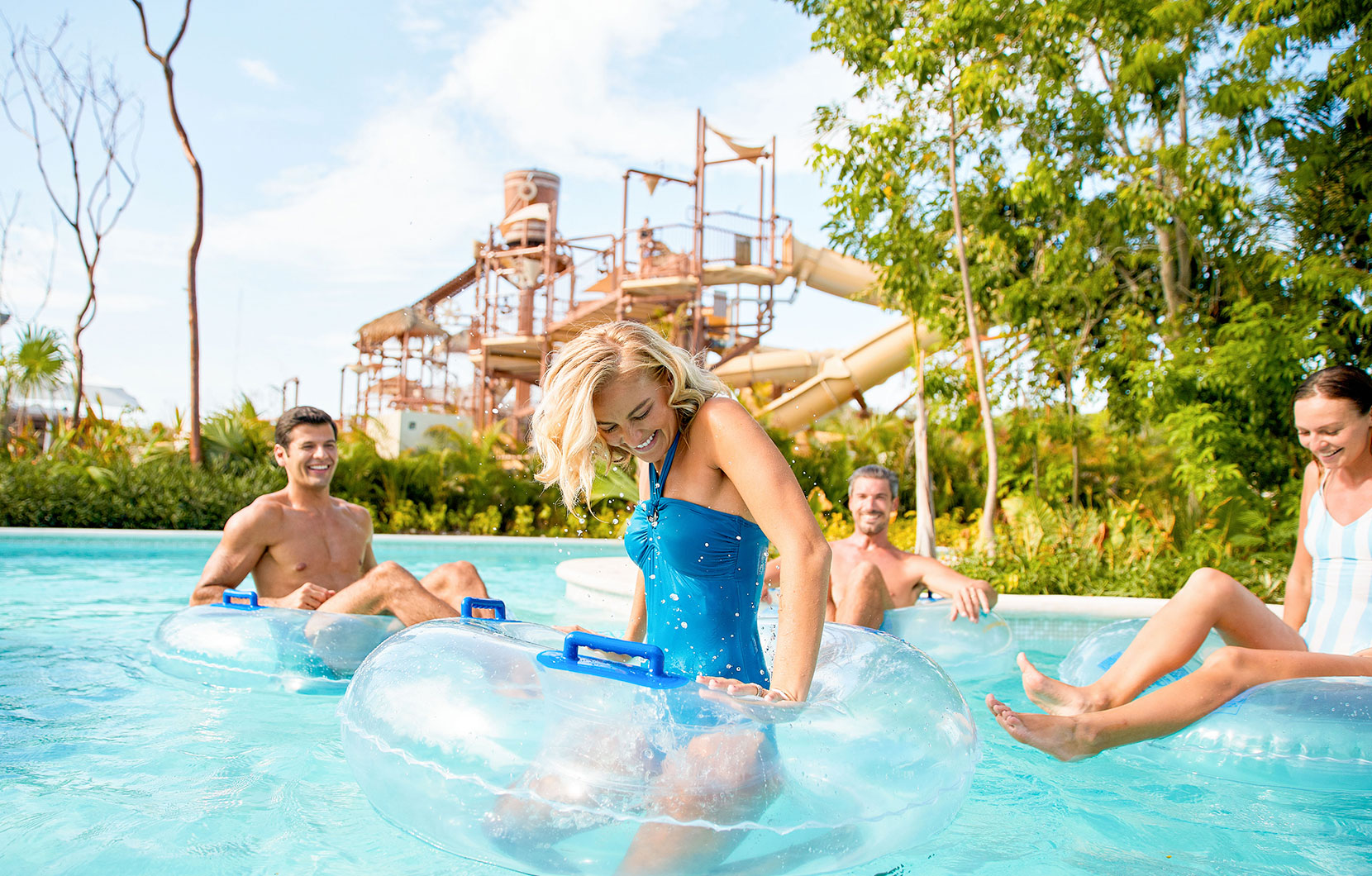 FACT 1: HOME TO THE LONGEST LAZY RIVER IN LATIN AMERICA
This lovely, scenic water feature is designed to help you bliss out and just go with the flow. Experience pure relaxation as you float down this picturesque river (for up to 20 minutes!) and delight in seeing waterfalls, islands, swim-up bars, and lush nature along the way.
FACT 2: REDUCING SINGLE-USE PLASTIC
Jungala is a celebration of nature at its wildest and most beautiful. As part of the park's mission to be as eco-friendly as possible, it aims to reduce single-use plastics by utilizing reusable containers for food and beverages, which are then recycled in large, fun-shaped receptacles located throughout the resort. This way, no plastic goes to waste!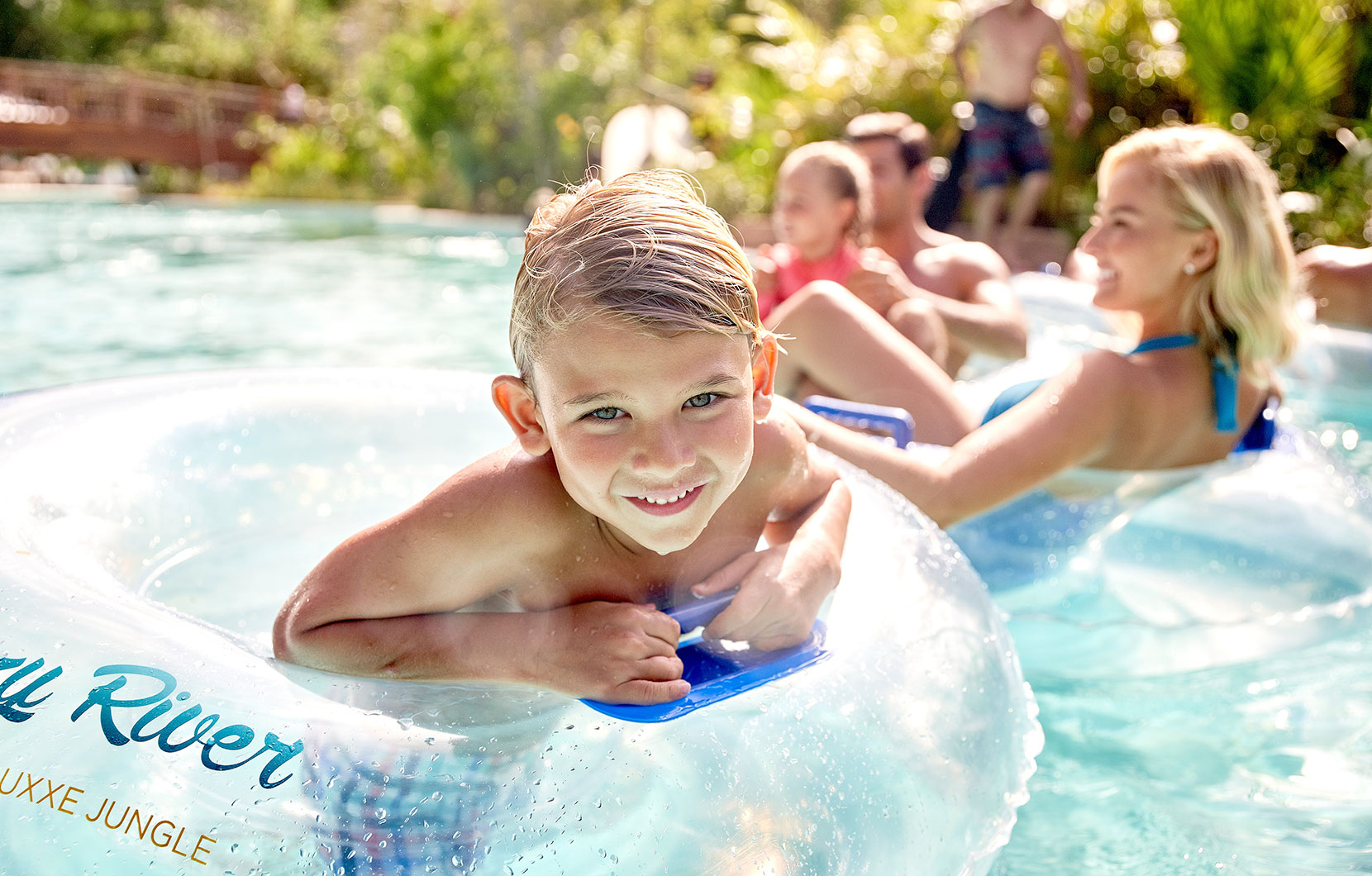 FACT 3: KIDS CAN ENJOY THE LARGEST INTERACTIVE GAME STRUCTURE IN THE WORLD
The whole family will have a blast at the AquaPlay Rain-Fortress, a sprawling one-of-a-kind aquatic playground featuring more than 300 games, slides, water cannons, and so much more. This state-of-the-art design also happens to be the largest interactive aquatic structure for kids in the entire world!
FACT 4: THRILLS GO FROM 0 TO 60 IN JUST SECONDS
Thrill-seekers will love the AquaLoop, one of Jungala's most popular thrill slides. This adrenaline-pumping attraction rockets riders through its looping slide in just 5 seconds! And while that may seem like just a blink of an eye, it's plenty of time to get your heart racing like crazy. You'll want to go on it again and again.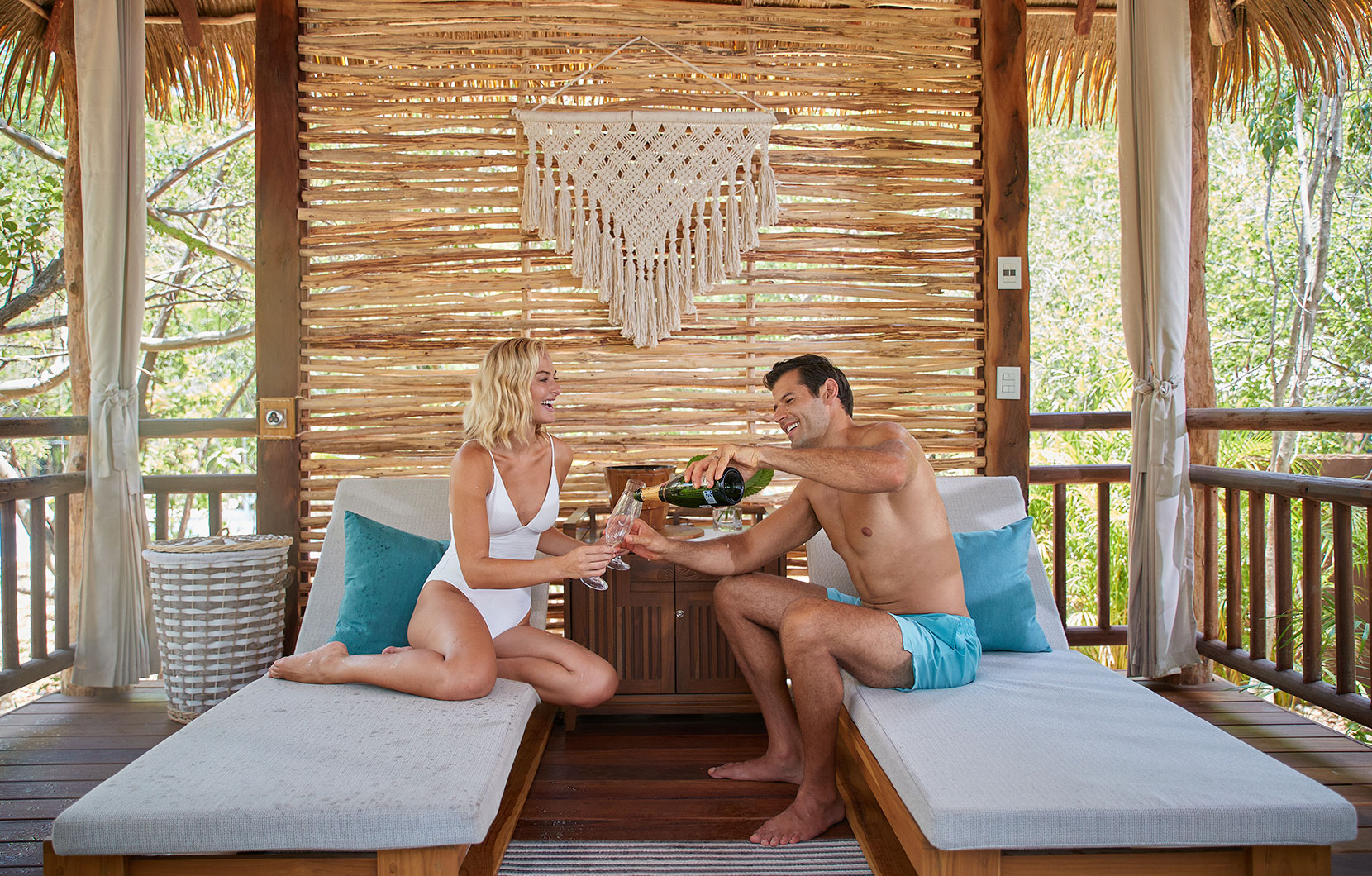 FACT 5: SO MUCH RELAXATION EVERYWHERE
Did you know that Jungala not only offers some of the world's best water rides, slides, and attractions, but also tons of luxurious relaxation, lounging, and pampering. One of the best ways to unwind at this multifaceted park is to visit the spa cabanas, where you can enjoy an indulgent massage before or after racing down water slides.
FACT 6: FUN FOR FOODIES
In true Vidanta fashion, Jungala knows that a great vacation means great food and beverage options. That's why the park offers amazing dining at the On the Waves Snack Hall, which features delicious, gourmet dining. There's also the Cocoyol Pool Bar if you're fancying a fruity tropical drink to help you cool off. And there's even a bar cart where expert mixologists can customize a drink based on your specific tastes.
For thrill-seekers and chill-seekers alike, Jungala Aqua Experience offers the best of both worlds. If you've never visited before or if you can't wait to go back, there's always something new and exciting to look forward to at this one-of-a-kind Riviera Maya experience. So are you ready to make a splash? Just call 1-800-292-9446 to book your stay today!