There are some flavors that transport you instantly. A squeeze of lime and a touch of chili—sometimes that's all it takes to make you dream of Mexico.
On the second floor of La Plaza at Vidanta Nuevo Vallarta, Mercado Mexicano offers many of Mexico's most notable flavors and foods, in one scenic setting. There's a lot to enjoy there, from playing authentic games like lotería, to enjoying live music, to shopping for that perfect souvenir from the artisanal crafts and goods. But one of the best ways to appreciate the setting and revel in your visit to Mexico is to try one of the country's most beloved street foods, esquites.
If you are ever strolling the markets of Mexico, esquites is a common antojito, or casual snack. It's a creamy mix of fresh corn, lime, and chili powder, and frequently served in a paper cup and topped with cotija cheese. For those of you who want to bring the flavors of Mexico home, we asked our corporate chef, Alexis Bostelmann, for Mercado Mexicano's delicious esquites recipe, and he let us in on the secret.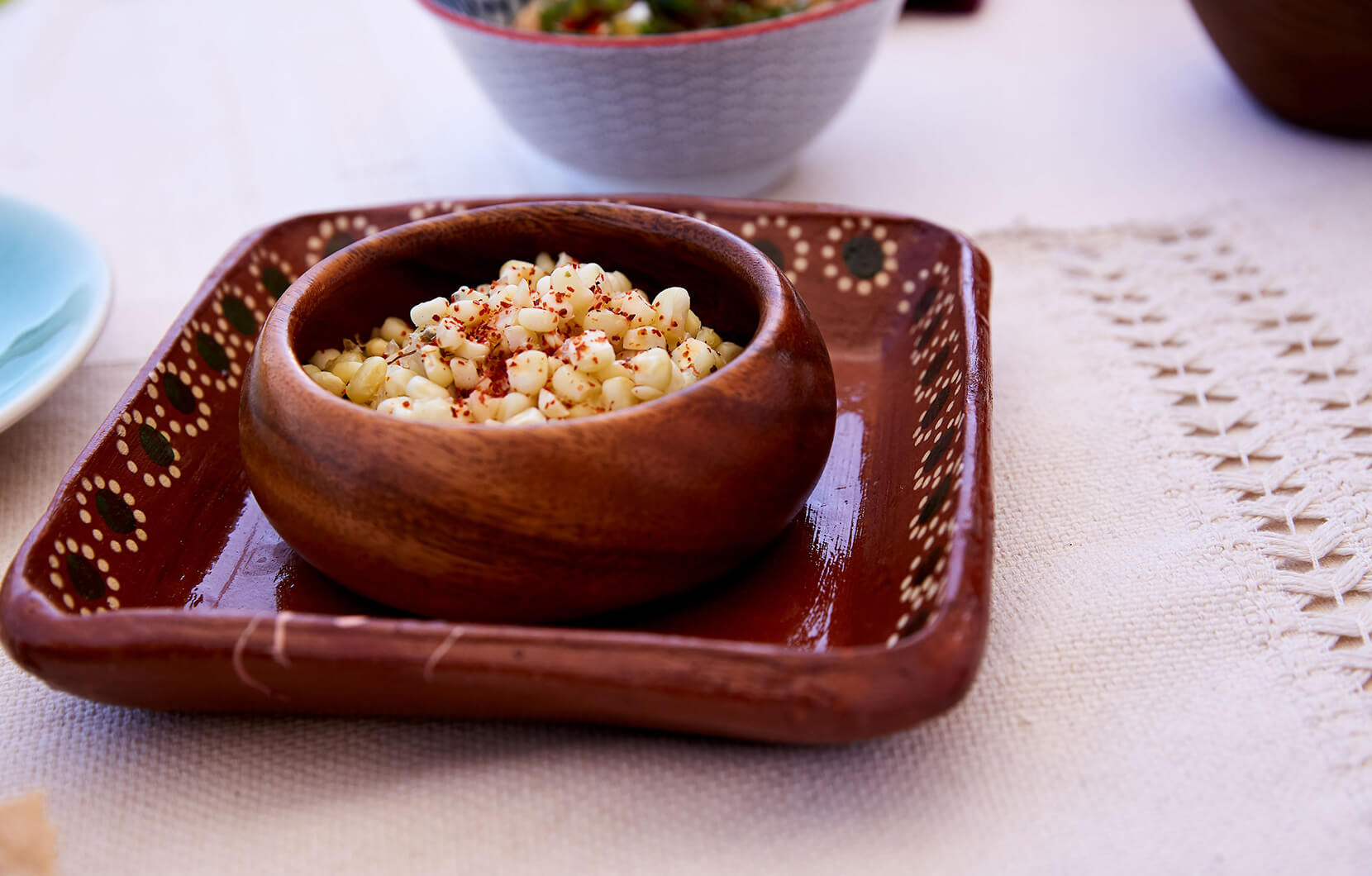 Esquites
Ingredients:
• 4 ears corn on the cob
• ½ onion, chopped
• 3 oz cilantro, chopped
• 8 tbs fresh lime juice
• 8 tbs mayonnaise
• 4 tbs cotija cheese
• 1 tbs chili powder
Instructions:
Slice kernels off the ears of corn. Place them in a pot of salted water, add the onion and cilantro, and simmer until the kernels cook evenly. Discard the onions and cilantro but keep corn broth. Season with salt and pepper to taste. Fill four paper cups with corn kernels and water. Add 2 tbs of lime juice to each, then top with mayonnaise. Sprinkle with cotija cheese and chili powder. Serve with a spoon and enjoy.
If you give our esquites recipe a try, make sure you post a picture of it on social media using #VidantaDreaming and tag Vidanta. ¡Buen provecho!