Three of our destinations now have courts to practice the fastest-growing sport in America.
Did you know pickleball was born from a vacation? It just took family members sitting around during a visit, three creative dads, and suddenly, you had pickleball!
It was 1965 in the countryside near Seattle when Joel Pritchard, Bill Bell, and Barney McCallum created a game, with rules and all, that their whole families could play together. Almost six decades later, the Sports and Fitness Industry Association (SFIA) named pickleball the fastest-growing sport in America in 2023 for the third consecutive year.
At Vidanta, we always listen to our guests' feedback and requests to meet your needs better. That's why we added pickleball courts to three of our destinations last year to upgrade our sports offering in line with current trends. Now, you can indulge in this fun game at Vidanta Nuevo Vallarta, Vidanta Riviera Maya, and Vidanta Puerto Peñasco while making the most of your vacation, just as the sport's founders envisioned.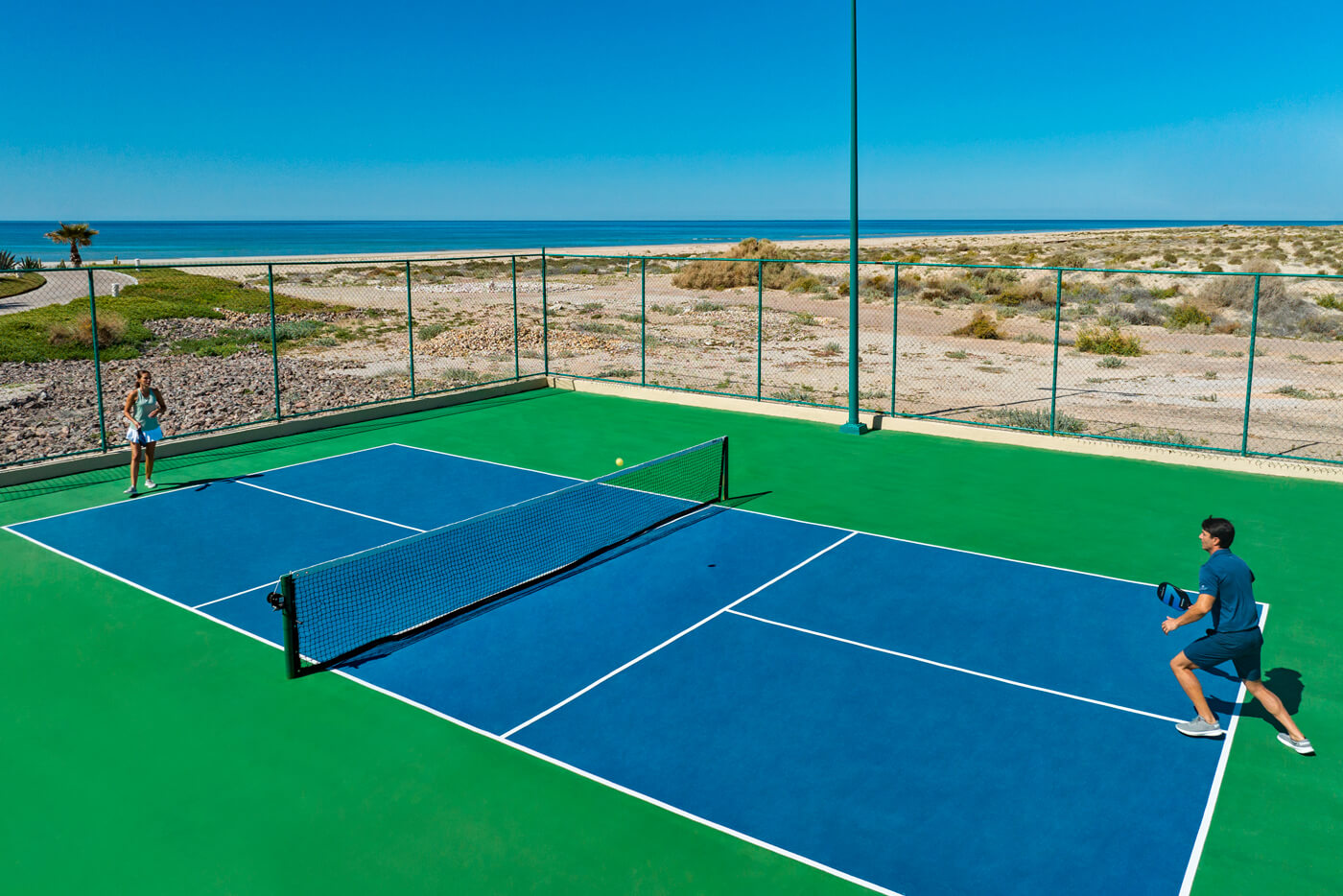 Joan Pritchard, Joel's wife, invented the name for the new sport. Initially, they played using whatever was accessible in their garage, and the game rules were borrowed mainly from badminton at the time. Joan found the circumstance similar to the selection of rowers chosen from other boats' rejected crews, whose vessels were named "pickle boats."
Pickleball is like tennis since it aims to pass a ball over a net on a rectangular court. However, pickleball uses wooden paddles and a plastic hollow ball with holes in its surface. The court is approximately a third of the one used in tennis, so less movement is required from picklers to hit the low-bouncing ball, making it a game that welcomes everyone.
Another unique aspect of pickleball is its terms and jargon. From a non-volley zone called "Kitchen" or naming a shot that has bounced only once a "Dill Ball" to calling a shot a "Falafel" because it bounced weakly off the paddle and didn't go too far, the vocabulary is definitely part of the fun.
But don't worry if all this is unfamiliar to you, our Vidanta instructors have you covered with classes and clinics. Also, for rookies and pros alike, we hold daily morning Open Play tournaments where anyone can join. And you can always make a reservation at your convenience to play with family and friends.
So, pickle your way to the courts on your next vacation and have a ball at Vidanta! Make sure to talk to your Concierge upon arrival during your next stay at Vidanta Nuevo Vallarta, Vidanta Riviera Maya, or Vidanta Puerto Peñasco to arrange your visit to the pickleball courts.